I spent the afternoon yesterday making up this little pincushion and stitching on Noah's Sub while watching
the Terminal
on dvd. What a great movie - I always enjoy Tom Hanks' movies.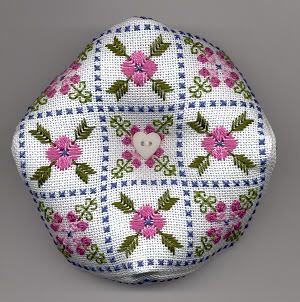 Indigo Rose's Nanna's Afghan, stitched on 32 count brittney using DMC Threads.
I found my inspiration for finishing the pin cushion recently on
this website
. If you are after some great ideas for finishing your pieces, this is the place to look. Deb Hunter has truly wonderful stitched work - Shepherd's Bush, the Drawn Thread, and the Sweetheart Tree just to name a few.