I did pop back to get some more fabric on Thursday after work and spent a bit of time last night making up a bag, this time for myself :) This is the fabric I chose:
and this is the fabric I picked out to have a go at making one of these boxes, I've borrowed the book from work :)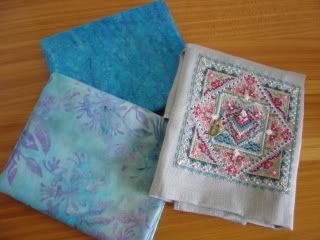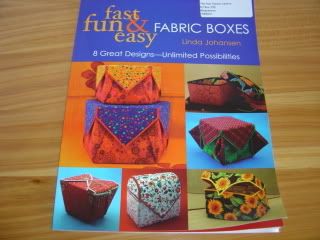 Will be interesting to see how this turns out as its going to take a bit of figuring out to put the cross stitch in the lid part.
We had a really good weekend, getting lots done around the house including having a few hours out in the gardens Sunday morning, before it got too hot, having a tidy up and Glenn got the lawns done. The ground is so hard and dry at the moment though. I emptied out several of the flower pots off the deck, they had been full of petunias and lobelia but over the past week or so the heat has just obliterated them, no matter how much they get watered :(
We also went to my aunt's 60th birthday party on Saturday night and spent a few hours there catching up with all my rellies. As usual when Mum's side of the family get together there was lots of wonderful food, including my aunt's speciality dessert, chocolate eclairs, yummo!
as it was the
Christmas Ornament SAL
weekend, I started my first ornie of the year on Friday, a Mosey N Me design from the 2004 JCS. All I left to do are the beaded garlands on it so I hope to have a pic to share tomorrow. I'm going to try and squeeze in another two ornies before the end of the month, a Mill Hill Santa one (which was started at the end of last year and not quite finished), and the Country Cottage Needleworks design from last year's JCS, a popular choice for many bloggers this month:)
I've managed to finish Part 9 of the Stitching Leperollo recently too, only 1 part to catch up on now but since Part 11 is due out later in the week, I don't think I'll quite get there. This is the pincushion part.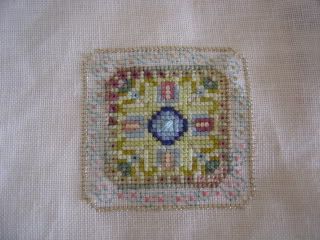 and finally for today, and before I completely melt away in this heat, Beach Roses which I've made into a biscornu.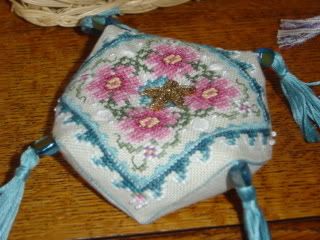 I'm off now to find a cool spot and a cold drink, thanks too for all the recent comments, they are all wonderful!