For the past few nights I've stitched on a Valentine piece for my first SBEBB exchange of the year. I'm really happy with how it turned out, would actually like to keep it for myself, ha ha, and I know another of my stitching friends would really like it too :)wink, wink.
I did finish Beach Roses earlier in the week and here it is before I assembly it into a biscornu, so its minus its lovely star fish charm.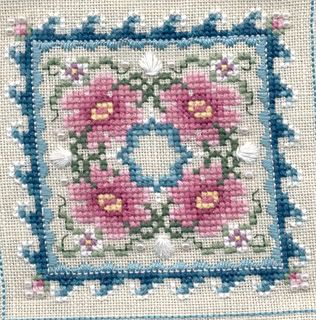 Beach Roses by Just Nan, stitched on 32ct platinuim Belfast, DMC threads.
Once again, its been a pleasure to stitch this Just Nan, especially since it used some of my favourite colour turquoise shades.
I'm heading back to the quilting shop this afternoon after work, I can't help myself, I've been dreaming about all those gorgeous fabrics all week, lol!! Before Christmas I was all sewn out and didn't even look at my sewing machine over my holiday break but I'm pleased to say that my sewing mojo is definately back now :)