Finally, Photobucket is working for me this morning, I've been trying since Friday to upload these photos.
This is Bee Pinkeep by Little House Needleworks and Country Cottage Needleworks, from the January issue of the Gift of Stitching Magazine: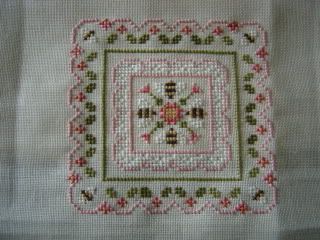 and the most recent pic of LHN's City Stitcher Country Stitcher, from the SAL I'm doing with
Kath
: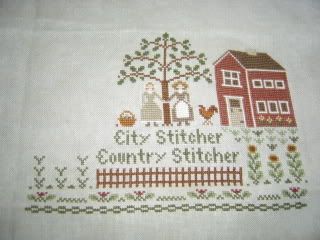 I've been thinking about what my stitching plan is going to be for the first few months of 2007. Over the past month or so I've stitched on whatever I feel like at the time but once I've completed one or two small projects I'm going to back to my "normal" rotation which will go something like this:
Monday to Wednesday - bigger pieces (Titania and the Christmas Blessing Angel), week about during the month.
Thursdays - Stitching Leporello
Friday - Sunday - smaller projects, Christmas ornaments, exchanges, gifts, needleroll stitchalong.
and somewhere in there I'm going to be SAL-ing with my kiwi stitching pals, Kath,
Lisa
and Pat, on
JBW Design's Advent Calendar
and Lizzie Kate's
12 Christmas Blessings
. Another of my goals this year is to "finish" things more often and I might even try to set aside one weekend a month for finishing. I'll be working on Leanne's House more regularly this year and have thought about using my free Friday afternoons for the quilt.
Back to work tomorrow, its amazing how quick the holidays have gone now they are almost over :) I'm going to spend the rest of today finishing up one or two jobs around the house, before it gets too hot, and then get our business bookwork up to date :)
Hope your weekend is going well!