It was back to work today after my lovely long holiday break and it wasn't so bad :) It was a bit of a shock to the system to get up at 6am this morning though, especially since during the night it was so hot and muggy that I tossed and turned for a bit before eventually going off to sleep sometime in early hours.
It was a staff only day today so that was good to catch up with all my staff, hear how their holidays went, and slowly ease back into things before the clients return tomorrow. I got to leave work a bit earlier this afternoon so I have been working on updating my Webshots album and rearranging it a bit to add albums for 2007. I think its all done so if you'd like to check it out sometime here's the site:
My stitching albums
While I was browsing through my end of the year finishes I found one that I don't think I shared a pic of. This is Inspirational Angel by JBW Designs which I stitched for Kath for Christmas and made into a pillow.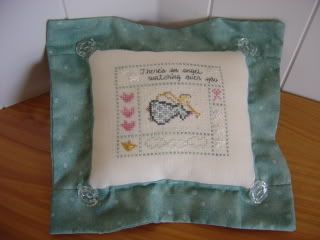 I hope to finish City Stitcher Country Stitcher tonight, lots of new tv shows start up this week so it looks like there'll be plenty of stitching going on, lol.