Thanks to
Anne
helping me out by sending over some extra threads from Oz, I was able to complete Evergreen this week.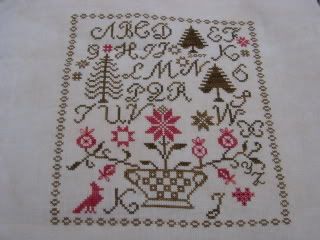 Evergreen - Blackbird Designs, stitched on 28ct Candlelight cashel by Silkweavers using Weeks and Gast threads.
Because I chose to stitch this on 28ct I ran out of the brown threads, Havana and Palomino, with over 1/3 of the design to go, you might just have enough using 32ct fabric.
As you will see in my sidebar I've started a new project this week, Just Nan's Beach Roses, which has been in my stitching basket for months :) After finishing Mermaid Heart recently it made me remember how much I enjoy stitching Just Nan's designs, although I haven't really stitched many of them.
Kath
and her DH Kevin will be here soon, they are going to be spending the weekend with Glenn and I, and then will head home on Monday. Kath and I are going to visit a few of the local quilting shops so I'm hoping to pick up some fabric to go with some of my 2007 finishes. I can imagine all the chatting and stitching going on, while the guys talk about "building" all weekend, lol.
Thanks too for the nice comments left about Apples :)
See you soon!