Thank you everyone for the comments on our tree, and my recent finishing, they are all very much appreciated.
For
Jenn
, here's a
tutorial
on how to make a flat fold, which is how I finished the Britty Kitty design.
Carol, I'll definately be looking out for a new, and much bigger tree in the sales after Christmas, lol.
Last week I sent off my last overseas exchange for the year, for the SBEBB Christmas ornament exchange. I sent to
Helen
(Lena-Lou) in the UK and I received a lovely email from Helen yesterday letting me know it had arrived safely. I chose to stitch for Helen Shepherds Bush's Christmas Candy Roll.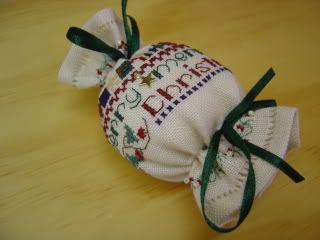 and the rest of the goodies I sent.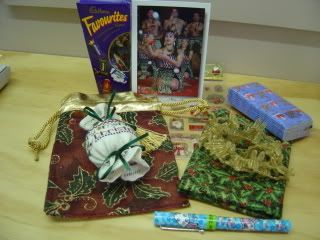 Last night I made some great progress on Evergreen but I think I'm going to run out of the main colour. Since I'm not putting an order into any ONS's until probably after Christmas I'll have to put this aside for now. I'll have a progress pic tomorrow.
So for tonight's stitching believe it or not, I'm going to dig my Stitching Leporello project out from the depths of my stitching basket. I haven't worked on this for quite a few months now, hence, I have several parts to catch up on.
Right, off to work now, we're having an "anything" day today, in another words, no actual activities for the clients are being run today and everyone, staff included, can do anything we chose - craft, dvds , music, swimming at the local pool, just whatever :) Sound good?
Have a great day :)