Last night we had the annual Christmas party at my work where the clients invite their families to come along, and we also invite people from the community (including the local mayor)that have supported us over the past twelve months. It was humming! We had thought at the start of the night we were going to have miles of food leftover but everything went down a treat - at least we won't be having party food for morning and afternoon tea over the next few days, lol.
so after a busy few days I'm looking forward to a very quiet evening in tonight, chilling out in front of the tv, stitching on Evergreen. I've still to make up my Peekaboo pincushion, I finished the Beecharmer biscornu though on Monday night after putting up our Christmas tree and other decorations.
now for some photos - some recent finishing, the Beecharmer and our Christmas decorating.
a bag for my friend Tracey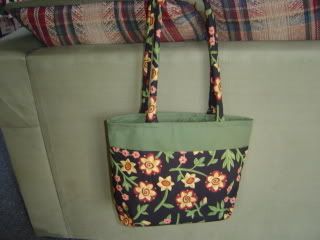 Britty Kitty with Butterfly by Brittercup Designs for my MIL, Heather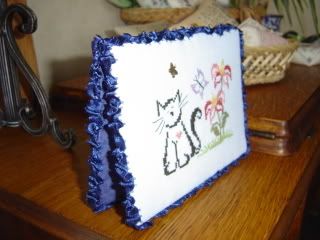 The Beecharmer by Indigo Rose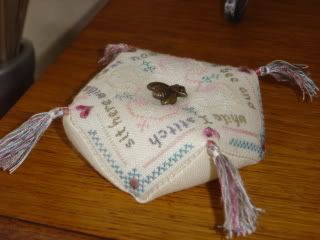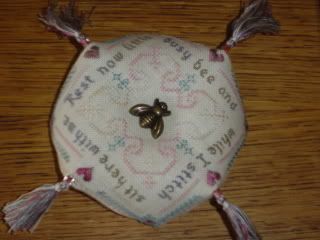 I think we need a bigger tree!!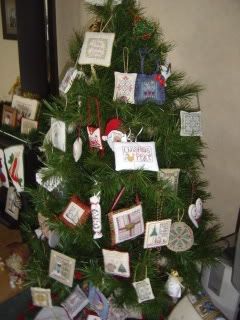 a collection of wall hangings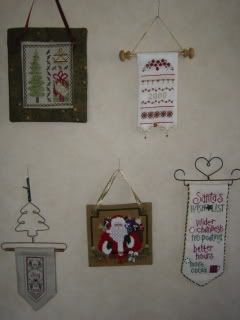 my wooden ornament tree
a small tree with mostly Mill Hill ornaments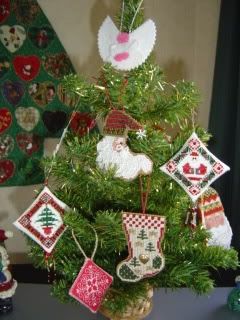 and lastly, the angel at the top of our tree. This was a gift from a very dear friend of mine about 10 years ago when Glenn and I had our first Christmas together, the first year our house was built.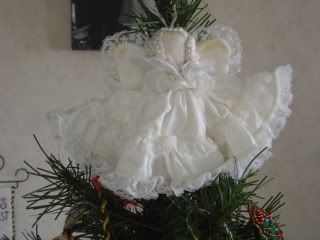 It was so wonderful, as I pulled out of the box all the ornaments which I'd received in exchanges over the past few years. Reminiscing you might say.
With our Christmas cards almost done, lots of shopping done, and the decorations up, it now feels very Christmasy. And its now only a week or so until Glenn and I are both on holiday - yippee!