Due to an address error on my part, I had a nervous few days wait last week until
Kath's
birthday gifts were finally delivered to her on Friday. Because it was a special birthday this year for Kath, I knew I had to stitch her something that sums up our friendship, and chose the Lavender Wings design, Kindred Spirits.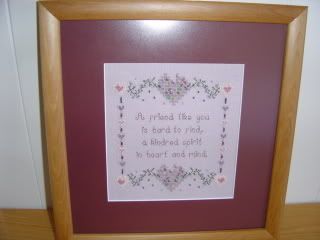 With my Mum's help, I also made Kath a little photo book filled with photos taken of us over the years, some friendship quotes and words to tell Kath how much she means to me. I don't have a photo of the book, but it was lots of fun putting it together.
December is also the last of our bi monthly ornament exchanges for the year so I chose to stitch for Kath Joyful Night by Shepherds Bush from the 10th Just Cross stitch anniversary book and made it into a little wall hanging.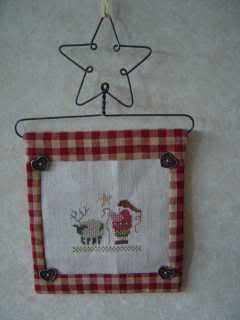 I didn't get alot of stitching in over the weekend. I went out Christmas shopping all day Saturday with my Mum and MIL, Heather. We left at 8am and got home about 6.30pm, a long day, but I was able to get lots of pressies crossed off my list. Then my cousin Donna arrived to stay with us for the night since she was in town catching up with family. We stayed up quite late watching dvds, chatting, eating chippies and dip and drinking Baileys, umm, my favourite :) Yesterday we spent the day doing the rounds of all our relatives, so Donna could drop off Christmas cards and presents, so that was good to catch up with everyone.
I did finish the stitching on my Peekaboo pincushion late Saturday night so it just needs to be put together now which I hope to do tonight. if you haven't already, pop over to
Karen's blog
as she has completely finished her one and its turned out fantastic :) Because I really enjoyed stitching this Indigo Rose design, it got me all inspired to pull out of my stitching basket one of my wips, IR's the Beecharmer and I'm pleased to say its all done now too. Will have pics to share of these tomorrow.
After work tonight I hope to get our Christmas tree up and decorated, and get on with writing out some more Christmas cards.
Have a happy day.