My annual holidays officially started at yesterday at lunchtime and I'm now on holiday until the 15th January!! It hasn't really sunk in yet, as its been rather hectic this week, trying to finish last minute reports at work and getting ready for a staff/client Christmas party yesterday morning. We had so much fun though,there was a Guess the Christmas carol quiz, and presents and of course, strawberry and cream cupcakes, and pavlova -yum! It was so wonderful to see all my clients enjoying themselves before they went off on their 3 week break. I then went out to lunch with my co-workers Wendy and Elsie, a lovely way to start the holidays.
Thanks so much for all the comments left on my previous post - I appreciate every single one.
Its a good day to be inside stitching today, wet and cold, its been raining on and off again since Sunday. Fingers crossed the weather improves for the weekend and Christmas Day :) I'm off later to get my hair cut and coloured and then will be going out to dinner tonight with some friends I used to work with. Glenn finishes work at lunchtime to start his holiday break so no doubt the guys will celebrate with a few beers this afternoon :)
This week I finished off the last of the finishing I wanted to do for the year:
The Christmas Elf Fairy by Mirabilia, made into a flat fold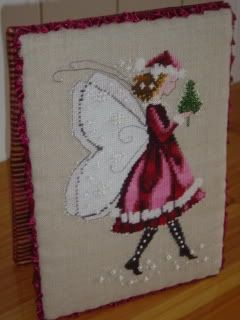 another bag, this one is for my friend Gail's daughter for Christmas. Georgia loves shoes so when I found this flip flop fabric, or jandals as we call them here in NZ, I thought it would be perfect for her.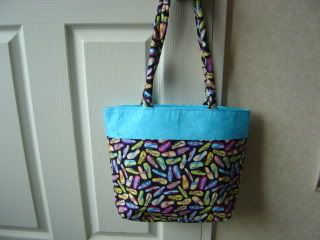 This Shepherds Bush stocking is for my niece Zoe,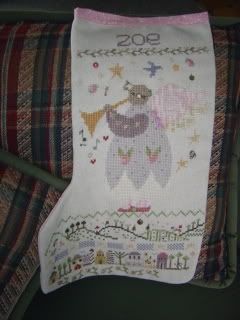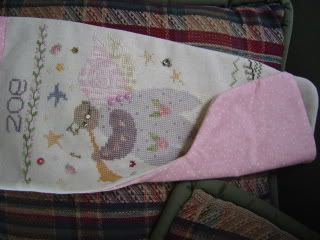 and from the recent SAL with Karen, Indigo Rose's Peekaboo Pincushion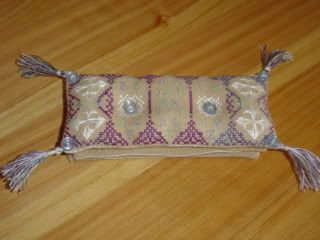 I thought I had a photo of the inside but can't off uploaded it to Photobucket. This was such a pleasure to stitch and make up.
Righto, I'm now to stitch for a bit, I've been making great progress on Leporello this week, Parts 5 &6 are completely done and I'm almost there with Part 7 too, its taking awhile as its a piece of quite dense stitching.
Take care :)