I have received some great mail this week. Firstly, on Monday from my seasonal exchange partner
Goldie
, an assortment of lots of goodies. It was an autumn theme this time around, although its the opposite season down here in NZ of course, lol. Goldie totally spoilt me as you can see by the photo.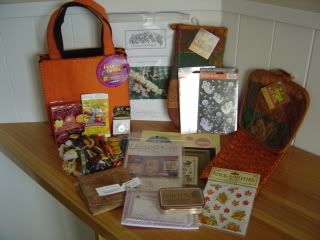 Goldie sent two charts from my wishlist and that I'd been wishing for ages, lol, as well as a gorgeous needleroll chart to add to my collection. I love the little orange tote bag which I'm going to use for my small travel projects. You will see there's an altoid tin there too, my first ever so I'll have to find something really nice to stitch on it. Thanks again Goldie, you totally made my day.
The next Block of the Month for Leanne's House quilt arrived this week too only it was the wrong block, they had sent Block 3 to me again instead of Block 4 so I was a little disppointed by that. Nevermind, I will post it back and no doubt will receive the right one within a few days.
My first ornament exchange from the SBEBB arrived yesterday all the way from
Cathy
, across the ditch in Australia :) Cathy stitched a lovely ornament from one of the earlier JCS magazines that I've been wanting to stitch myself sometime called "No L".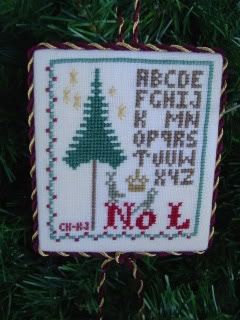 I think the finishing is just wonderful, I really like the cord Cathy has made to go around the ornie.
And the rest of the exchange, the Aussie ornament is too cute! I was pleased to see this as I had meant to buy one as a souvenir when I was in Melbourne but forgot to go back to the shop where they had a selection of different ones.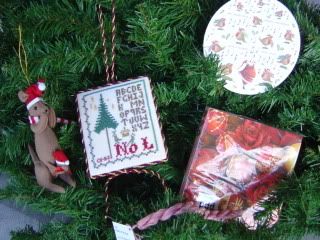 Thanks again Cathy :)
I was able to finish the top of the IR pincushion last night so will make a start on the back tonight. There's not alot of actual stitching left to do now and then the assembly. I've really enjoyed working on this SAL with
Karen
- after focusing on exchanges, Christmas gifts and ornaments for the past few months, its a nice change :)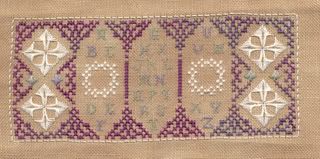 before I go, I want to wish a very special friend of mine Happy Birthday.
Kath
, I hope you have a wonderful day fill with lots of love and laughter.
Have a good day everyone!