Its been very hot and sticky here since Christmas day, far too hot in our little office to be sitting at the computer (one of these days I must buy a fan for in here) This morning its a little cooler so I've been spending the morning catching up with emails and downloading photos from our Christmas day celebrations.
We had a wonderful day with our family, and started the day off by visiting my parents. Watching my niece Zoe opening her presents was just priceless.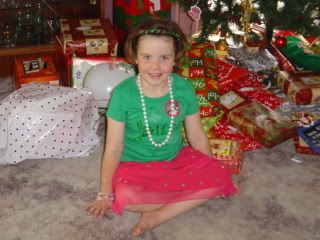 Zoe, under the Christmas tree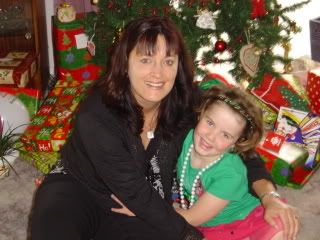 Zoe and I.
We all got thoroughly spoilt with lots of great pressies. Glenn gave me several gift vouchers to spend at some of my favourite shops.
Then it was off to Glenn's parents for the rest of the day. For Christmas lunch this year we had chicken, ham, lamb, pork, new season potatoes and pumpkin, fresh beans, roasted parsnips, kumaras, and carrots and all the trimmings. For dessert strawberries, ambrosia, trifle, Christmas pudding, cheesecake, icecream and fresh fruit salad. It was all just divine, lol.
Yesterday, Boxing Day, I spent the morning tidying up while Glenn painted our laundry ceiling, he's a good boy, and then we chilled out for the rest of the day. While Glenn watched cricket on tv, I found a cool spot and stitched and stitched, lol. I have my first finish of my holidays, Little House Needleworks Watermelon: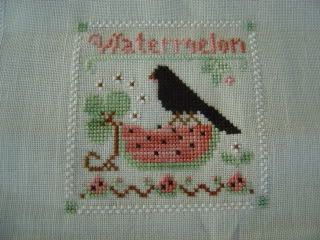 I think I'll make this into a small flanged pillow. I pulled Just Nan's Mermaid Heart out of my stitching basket last night and this will be my project for the next few days, I'm hoping it will be finished by New Year's. My progress so far: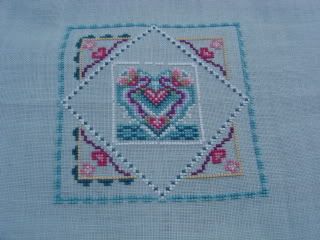 I hope you all had a fantastic Christmas! Be back soon! happy stitching :)