I'm feeling a bit drained this afternoon, we've had a very hot day here, it was 31 degrees C at 9.30am this morning and hasn't dropped at all this afternoon. I was out and about in town at lunchtime and boy, was there some heat to the sun. You've got to wonder whats going on with our crazy weather as it was only a few days ago we had the fire going!
Thanks for all the lovely comments about the St Nick Roll, as always they are greatly appreciated :)
Because I don't have any stitching pics to share today, I thought I'd share a few of my flash new laundry units and benches. You may recall that Glenn's winter project was to completely finish off our 2nd bathroom? Its all done and now we're waiting for my Dad to come and do the wallpapering, very handy to have a painter/wallpaperer in the family, lol. So in the meantime, Glenn, who always has to have some DIY project on the go, has decided to redo our laundry. Last weekend he stripped off the wallpaper and over the weekend he fitted the new units. Its also very handy to have DH who's a joiner, lol. The great thing is I've got some more storage space, always comes in handy, and I'm sure the new drawers and cupboards will be filled up in no time flat, lol.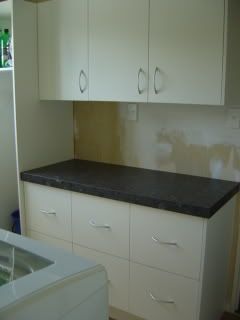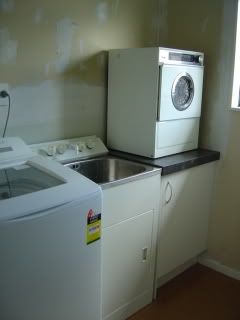 Hope your week is going well so far, happy stitching