hey there fellow stitchers, how's it going? I haven't been around for the past week or so due to various reasons. I was off work at the end of the week with a stomach bug that came out of nowhere and completely washed me out for a few days. I'm now completely recovered but oh boy, I wouldn't wish that on anyone, lol. Also, while the rest of New Zealand was having atrocious spring weather including my pals
Kath
and
Lisa
at the bottom end of the north island, here in Hawkes Bay we've been having bit of heat wave, well over 30 degrees C and high humidity each day so not very conducive to sitting in a hot office at the computer for very long :)
I have been stitching never the less, trying to reach the end of my ornament and Christmas gift stitching. I'm aiming to have it all completely finished by 1st December - that might be wishful thinking as I've still got two exchanges to stitch and get posted but I have got all the threads, patterns and fabrics ready to go for them. I'd like to spend my stitching time during December working on whatever takes me fancy, maybe a new chart or work on a wip, which are fastly becoming UFO's! I have a SAL project that I've been wanting to do for a few months now with
Karen
but with our other committments its been put off so perhaps we might even get to it during December?
now for some home renovation news: Dad spent a few hours on Sunday wallpapering our bathroom and we're thrilled with how its turned out, and very happy with our colour choice.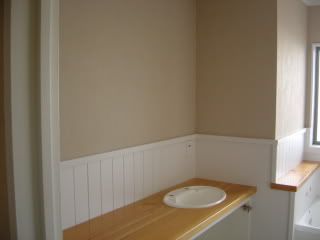 Dad calls the colour of the wallpaper "tea" but I'd say its a beigey colour which looks different in different light. Now all that needs to be done is for the plumbing bits to go in the bath and the handbasin and the flooring to go down, some accessories and perhaps a nice mirror and viola, it will be finished. Its only taken 10 yrs! This room is the very last in our house to be decorated, not including the laundry and toilet/shower which are getting a spruce up over the next few months. Glenn informed me the other day that we should re-wallpaper our kitchen and living area and I'm like, yeah right, I think you need to finish a few other things first, I could just imagine the kaos it cause, lol.
I have a few stitching finishes to share today. I decided that with all the ornament stitching I've been doing for others lately that I needed to actually stitch one for our tree so I chose the Christmas Joy Bellpull by the Sweetheart Tree from this year's JCS ornaments issue. I didn't have any paliettes on hand so placed an order at my not so close LNS and they should be here any day now.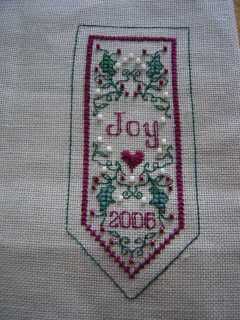 and this one is Happy Christmas by Bent Creek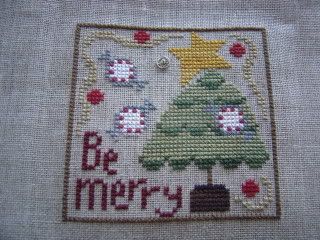 I'm having bit of a finishing frenzy this week in the evenings, our dining room table is completely covered with my sewing machine, fabrics, ribbons and embellishments so I hope to have some completed projects to show in my next post.
oh yes before I go,
Sharon
asked me how to go about making ruched ribbon that I put on the flat folds recently. I didn't really follow any instructions as Lisa had given me a lovely flat fold with a ruched ribbon edging that I used as a "model" :) But I did find that
Su
has some great photos and instructions on her blog for a ribbon edging.
Have a happy day!