I put the final stitches into the needleroll yesterday afternoon, such a cute stitch, the Santa on the top left is my favourite :)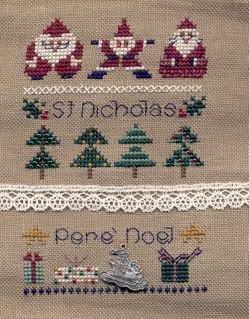 Shepherd's Bush St Nicholas Roll stitched on 32ct dirty belfast linen using DMC threads.
I'll probably make this up next weekend as I have a bit of ornament finishing to do as well.
So next on the agenda, what do you know, another ornament and a friend's Christmas gift. One of these days I might just get back to those WIPs listed over there, poor neglected projects, lol.