Gosh, you all know how to make a girl blush don't you -thank you all so much for the fabulous comments left about my finishing :) I was just thrilled to read them all, especially to see some new stitching friends leaving messages. So a huge thanks!
Now to answer a few questions:
Anne
, I have just sent the Violets and Lace Sampler away to my friend to be framed in time for my Mum for Christmas. I had thought about making it into a bell pull but when I couldn't find any suitable hangers, framing it is then :) And
QuiltorStitch
, you can find a tutorial
here
for a no sew flatfold finish. It has some great step by step photos to follow :)
Last week it was a friend's 60th birthday so on Saturday Mum, my MIL, Zoe, and myself took our friend Carol to one of the local tearooms to have afternoon tea together amongst the beautiful garden setting.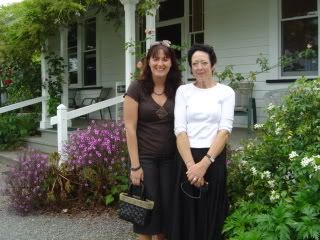 Carol and I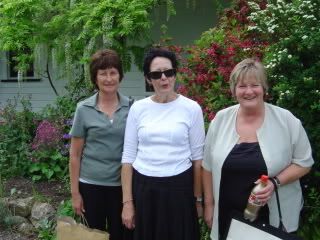 Heather, Carol and Mum
some of the gorgeous roses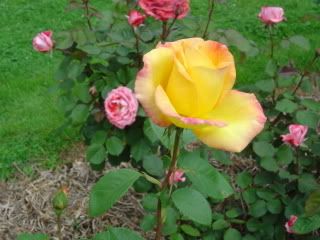 I also spent a few hours with my friend Ally so we could both start our first block of Leanne's House quilt. We got 2 mini blocks done, only an applique heart to go on one and some embroidery on the other, and of course lots of talking! I had a lovely time with Ally, I think her DH was actually wondering if we were actually doing any sewing, lol.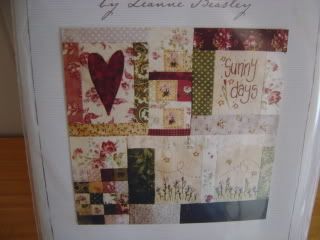 It was interesting to see that even though we both opted for the pattern and fabric option when we signed up for the block of the month, we've got completely different fabrics to use :) I have now got some "homework" to do before Ally and I get together again in a few weekends time.
I didn't get as much stitching done over the weekend like I had planned too but I have finished another ornament and a small Brittercup Designs freebie, two more of the "to do before Christmas list". This list is getting slowly getting smaller, lol.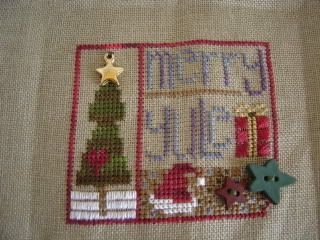 Merry Yule - Erica Michaels JCS 2005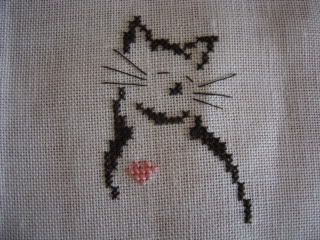 Portrait of a Cat- Brittercup Designs
I won't be around much now until later in the week as I'm heading out of town for a few days with my staff and some of our clients. Its the needleroll stitchalong next weekend so if anyone would like to join in this month, please let me know and I'll post a list of everyone's names later in the week.
Take care, and as always, happy stitching :)