It was back to work today for a "rest", lol, after a pretty full on weekend. On Friday night Glenn and I got all dressed up to go to the local Sports Awards. Our business sponsors the Fair Play/Encouragement Award each year so we always look forward to the night. Don't know if Glenn does though as he's the one that has to get up on the stage in front of 100's of people to present the award :) This year the Guest Speaker was Beatrice Faumuina, the New Zealand Discus thrower and runner up in this year's NZ Dancing with the Stars. She was very interesting to listen too. Bit of a late night, or should I say early morning, it was just on 2.30am when we got to bed.
On Saturday Glenn and I had a family pre Christmas celebration/reunion to go to for my Dad's side of the family at one of my aunt's house. It started at lunchtime and we had an afternoon of sitting out in the garden catching up with everyone( there were 40 or so there), presents for the kids and a lolly scamble, and lots of family photos. We had a beautiful meal followed by dessert, followed by my aunt and uncle turning on their display of Christmas lights. They decorate their whole house and garden. By the time we got home at 9pm or so I was shattered so hit the pillow more or less straight away.
I was up bright and early Sunday, can never sleep in when I know I have lots to do around the house and spent most of the day catching up with housework, washing, gardening and lawns. Even managed to squeeze in some Christmas present wrapping and more ornament finishing before heading out to get the groceries. The rest of Sunday evening I sat and stitched on the 3rd to last Christmas gift while watching my favourite tv shows at the moment CSI Miami and Numbers.
My friend J emailed me a couple of photos at the end of last week of some framing she has recently finished for me. One is a gift so I'll leave that for another day but here is the Violets and Lace Sampler, from the SAL I did with Carol. This is for my Mum for Christmas.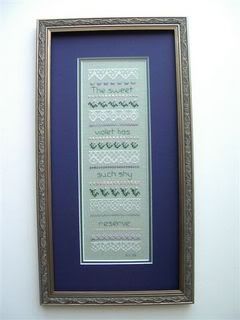 I left the choice of mat and frame to my friend and I think she's made a great job :)
I mentionned last week that my gift and ornament stitching is nearly coming to an end and I had hoped to have it all finished by the start of December? I've only got one more ornament to stitch for my Mum. I ask her to pick out one from the JCS mag each year but unfortunately the one she really likes this year I don't have all the special threads on hand so I'm going to stitch one from last year's magazine that I hope she'll like instead, and which also happened to be the kiwi ornie SAL choice for November, La D Da's Christmas Heart. Then the very last gift on my 2006 Christmas stitching list is for my MIL Heather. I'm intending to stitch the top design from this
Britty Kitties II
by Brittercup Designs and make it into a flat fold.
With all that coming to an end, and only a little bit of sewing to do to finish a few things completely, including my niece's
Christmas stocking
, I'll be able to make a dent in some of my WIPs as well as couple of new projects, Indigo Rose's Peekaboo Pincushion which is going to be a SAL with
Karen
and if I've got the threads,
Evergreen by Blackbirds Design
, a design I've liked for some time now.
Its been blowing a gale out there today so I think I'll go and water all the flower pots on the deck. Typical, they just start flowering and looking nice and now the wind will blow them to smithereens :)