Thank you all for the comments about the my needleroll and ornaments - they are all appreciated very much.
Hi Marg! if you are reading this a big hello! hows things been for you? Would love to catch up with you sometime!!
Last night I finished another ornament off my list, Christmas Rose by Elizabeth Designs.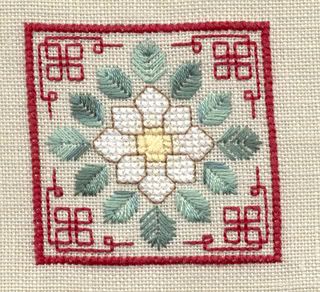 It looks slightly skew-wiff thanks to my scanner :) I stitched it on 32ct platinium belfast. The green Needle Necessities thread is one of my favourites, #139 Mountain Spruce.
Over the past week or so I've been putting a few stitches into my current Little House Needleworks project, Where there is Life, and as there was only the roof to be done, I also finished it last night.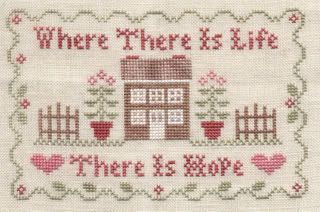 Stitched on 28ct cashel flax linen using Crescent Colour threads.
Such a sweet design. If anyone's interested in this one, the kit can be purchased from
Elegant Stitch
with all proceeds going to Breast Cancer support organisations. I'm not sure how I'll finish this one off, maybe into a pillow or if I can find a lovely white frame somewhere for it perhaps.
So tonight I'll be working on my SAL piece, the Violet and Lace Sampler. Will post a progress pic tomorrow and I'll look forward to seeing how
Carol
gets on with hers.
And once again, its almost time for this month's needleroll stitchalong. Who's going to be working on a needleroll this coming weekend? Please let me know if you want to join in and like usual, I'll post a link to your blog so we can check out one another's progress. My choice for this month is Shepherd's Bush Rowanberry, one of the small card designs.
Have a happy day!