Yay, I got my camera back yesterday. I'm not entirely sure what the problem was but I was so relieved to have it back, especially since my camera goes everywhere I go :) So now to share a few pics from my sewing afternoon on Saturday.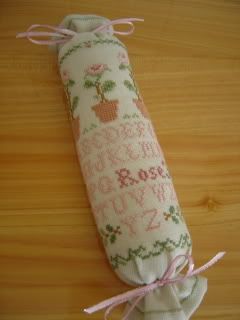 Rose Sampler - Little House Needleworks, stitched during last month's needleroll SAL.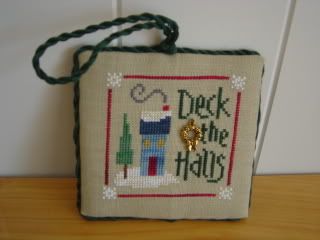 Deck the Halls - Lizzie Kate, an ornament stitched last month.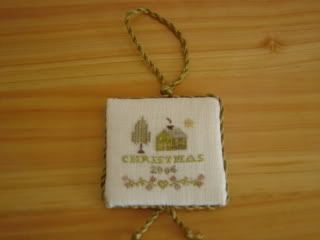 Home for Holidays - Brightneedle, last month's Kiwi ornie SAL choice from 2005's JCS magazine.
Over 1 stitching is my least favourite to do, so like
Karen
, I decided to try out
Ruth Sparrow's suggestion
, and what do you know, I found it so much easier and made my stitches neater and tidier at the back.
For some reason, the photo of the ring pillow won't upload so I'll leave that for another day.
All my up and coming exchanges, SBEBB Autumn, Smalls and Quaker are parcelled up, ready to head to their destinations, when I go to the post office tomorrow. That will only leave me one more exchange committment for the year, the SBEBB Christmas ornament. Perhaps I might get back to some of my bigger projects now, like the Stitching Leporello. I've missed working on a bigger design over the past few months and this week I've been having thoughts about starting something completely new, like Mirabilia's Bliss Fairy, but I will try and resist the temptation, for now anyway)