Last night it was SAL night with Carol, well for me anyway, lol, so I managed to stitch a few more bands, even some Queen stitches :)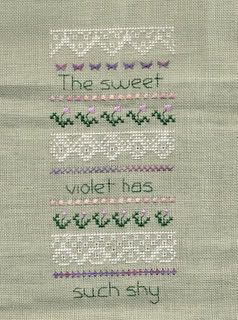 Looking forward to seeing how far you get Carol. I love the effect of the Bridal Blush thread, the whitey pink one, looks so delicate.
Today I picked up some fabric from my LNS intending to start
Wedding Row
sometime over the weekend after I've done some needleroll stitching. I need to get my skates on if I'm going to give it to Glenn on the 22nd!! eek!!