Thanks to everyone who left a comment about the wedding sampler - now I've seen a photo of it, I can't wait to see it "in person" which will hopefully be next weekend.
The last few days have been very stitchey indeed. I've stitched up a small Just Nan design, Have a Heart, which is now to be sent to Misty in the US for her friendship quilt. I think the fabric is a Sugar Maple fabric.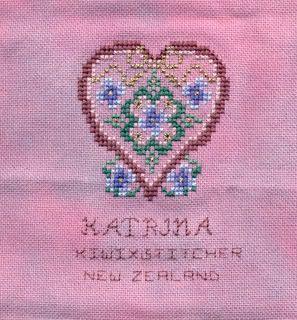 The design is supposed to have gold and blue beads but Misty asked us to not to put on any embellishments incase her cat decided to try and eat them!
And here's my Violet and Lace Sampler progress, please excuse the wrinkles in the fabric :)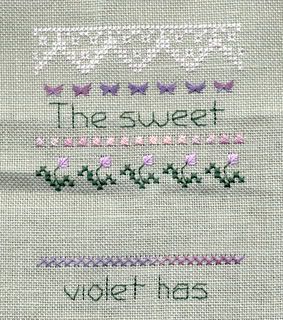 Carol,I'm already looking forward to this week's SAL night :)
On Saturday afternoon I managed to get quite a bit of finishing done- last month's needleroll, the ring pillow, SBEBB Smalls and Quaker exchange, and a small ornament. I'll be back tomorrow with photos as I've borrowed the camera from work to take a few pics.
So for the next few days or so I'll be stitching on Christmas ornaments, trying to get caught up with the Kiwi ornie SAL as well as getting ready for some exchanges. I had a lot of fun on Friday night browsing through all my JCS ornie issues sorting out what to stitch.
Bye for now!