Hi everyone, I'm back from my trip! Mum and I flew back to New Zealand on Saturday and we were met at the airport by one of my aunts, Dorrie, as my uncle, Ivan, had come back from Melbourne on the same flight. We then travelled up from Wellington to Palmerston Nth where we were met by Glenn, Dad and my niece Zoe, and stayed the night in a motel before heading on home Sunday afternoon.
It was back to "reality" yesterday and back to work, made even harder by the fact that on Sunday our clocks went forward for summer daylight savings so it was very hard to get out of bed, lol, especially after becoming accustomised to the time difference between here and Melbourne.Mum and I had a fantastic time, its a hard to believe that our holiday has now been and gone, thats what happens when you look forward to something for such a long time :)
I've got loads of photos to share and news all about our trip so I'll get started!
We left home the morning off Wednesday 19th September and flew nationally between Napier and Wellington. Well, never again will I fly that route, talk about hair raising, although the flight itself was fine the take off and landing due the wind at the time was rather rocky to say the least! We had a few hours between flights so we had some lunch and browsed the Duty free shops. Our flight over to Melbourne arrived in on time and we breezed through Customs, to find no uncle Paul to meet us. Just as we were beginning to think that maybe we'd given him the wrong time he arrived, with my cousin Chelsea (who's nearly 4) after being caught up in bad traffic. Soon we were on our way to meet my aunt Ede, another uncle Ivan (who'd flown over from NZ a few days prior) and my cousin Jamie, his wife Tamsin and their new baby Stephanie for dinner at my most favourite restaurant in all of Melbourne, Tran Tran, a Vietnamese restaurant. Its was wonderful to see everyone, and catch up with all the news including some special news that Paul and Ede are expecting another baby next March, another cousin for the Ross clan :)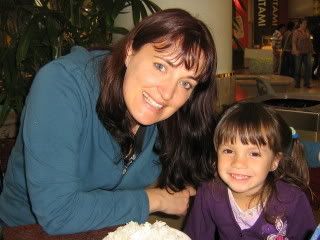 Chelsea and I
Thursday 19th Sept
Mum and I were both awake about 4am! Tried to get some more sleep but after awhile decided to get up and have a chat with Paul before he headed off to work. I went along with Ede to drop off Chelsea to see where she went to day care and to meet her little friends. Another NZ uncle, Gary, flew in on Thursday morning so he arrived at the house later in the morning. Mum and I ventured out to one of the local shopping centres for the rest of the day and met Paul and Chelsea there for dinner.
Friday 20th Sept to Sunday 24th Sept
After Paul finished work we loaded up the car and headed out of Melbourne to
Euroa
, where my uncle Wayne lives on his horse farm. The traffic was really bad so it look twice as long as it would normally. Instead of saying we were out in the "sticks, like we do here in NZ, we were out amongst the gumtrees, as that is all you can see for miles, lol. On Saturday we headed for the historic town of
Beechworth
, and spent a couple of hours there, including having lunch at Australia's
greatest bakery
, walking around some of the many old buildings and being tempted by the lollies at the
lolly shop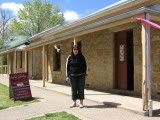 On the way back to Wayne's we stopped at
Brown Brothers winery
, a very popular Australian wine company. Saturday night it was Wayne's 50th birthday party which was held at the farm. It was a great evening and I got to catch up with my "aussie cousins" whom I hadn't seen in over 10 yrs. We spent most of the night catching up on one another's news :) We also got to meet several of Wayne and Paul's good friends, whom we've heard to much about over the years.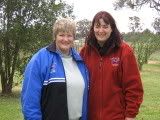 Mum and I on the farm
On Sunday, after brunch, it was time to head back to the city, this time taking a different route so we could take in a few sights along the way.
Monday 25th Sept
Let the shopping being, lol. Mum and I went out for the day, looking first at shops in Oakleigh, a small shopping centre near Paul and Ede's. I also came across a small stitching shop,
Craftee Cottage,
where I got talking to the owner. She told me that she sends stash out to New Zealand all the time. She had some lovely Christmas ornament class kits on display that I've made a note to order sometime at a later date. Aftter browsing around Oakleigh we then headed to
Chadstone
, a huge shopping centre where we spent the rest of the day.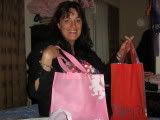 shopping bags galore!
Monday night we had a family dinner.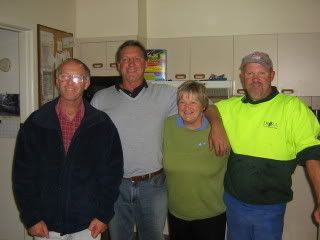 Mum with her three brothers, from left -Ivan, Wayne and Paul
Tuesday 26th Sept
We set off quite early to catch a train right into the city for a day of sightseeing.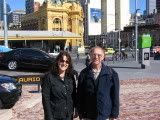 Ivan and I on Federation Square, Flinders St station in the background.Some views out over Melbourne from the top of the Melbourne Oberservation Deck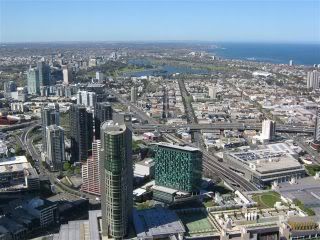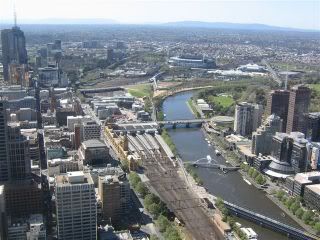 We had a great day walking around the streets, taking in the atmosphere, a very buzzing place.Tuesday night Paul took us to the
Casino
for dinner and for us to try our luck on a few games. I was amazed to see how busy it was for a Tuesday night!
Wednesday 27th Sept
Mum decided to have a quiet day at the house so Ivan and I headed off to
Chapel Street
and
Bridge Rd
, famous for its factory outlet shops. We must have walked some km's that day, almost wore the tread off my shoes, lol!!! But it was so worth it for the bargins I got at one of my favourite stores, Espirit. Wednesday night we visited my cousin Jamie, Tamsin and their new baby Stephanie, who is only 9 weeks old.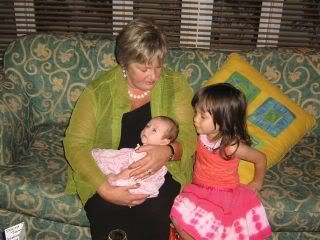 Mum with Stephanie and Chelsea
We had been invited out to celebrate Paul and Ede's friend Michelle's birthday so went to a mexican restaurant for dinner.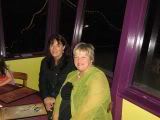 Thursday 28th Sept
One of the highlights of my trip was to be able to meet up with
Anne
. We met at the Chadstone shopping centre after Anne finished work. Anne is so cool, very bubbly and so friendly, even my Mum and Ivan were both very taken with her. We started chatting straight away and didn't stop until Anne dropped me back at the house. I would have loved to have been able to spend more time with Anne, even been able to get together to stitch for a bit, but we'll save that for next time won't we Anne? :) Anne gave me the most gorgeous scissor fob, she has my tastes worked out to a "t", and some lovely blue threads. I don't have a pic of the goodies but you can check them out on Anne's blog, along with the small gift I made for her.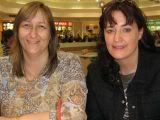 Friday 29th Sept
Ede had the day off from work so took us just out of to the
Dandenong Markets
. We could have spent ages there, there sure was some interesting things to look at. In the afternoon I headed back to the shopping centre to pick up a few last minute gifts and souvenirs to bring home before coooking dinner for everyone.So that was my trip to Australia in a nutshell, lol. I bet in a few days time it won't even feel like I've had a holiday, especially since I now head into a very busy time of the year at work.
As for stitching news, I don't have any!! I did take some with me but only managed about 10 stitches! This week I've been making up for it and have been stitching my little heart out, trying to get my SBEBB smalls exchange finished. While I was away, the 2006 JCS ornament magazine arrived so I've been making up a list of my favourites from it, getting ready for bit of a ornie stitchfest over the next few weeks :)
This post has turned out to be quite long so I'll leave my September review and October goals for tomorrow.Hope everyone is well and I look forward to catching up with you all sometime over the next few days. Have a happy day!