My "almost" two week holiday break officially started yesterday at 4pm- wahoo! I'm at home today, doing some housework and packing my suitcase, and some other catch up jobs, then tomorrow Mum and I leave to fly to Melbourne in Australia! We have a small flight first - from Napier to Wellington, and then we catch our flight at 3.30pm Wednesday afternoon. Its only four hours so we arrive in at 5.30pm aussie time. Mum spoke to my uncle last night who mentioned that its very warm there at the moment, sounds good to me!
Last night I received a text from
Anne
, the wonders of modern technology, as we're going to arrange to meet up one day (once I've found out what our family over there have planned for us) Look forward to seeing you soon Anne!
An order arrived yesterday from Elegant Stitch, what perfect timing, containing a few new charts and the Little House Needleworks/Crescent Colours Breast Cancer kit, Where there is Life. I couldn't resist and made a small start on it last night and this will go into my stitching bag along with LHN Pear. Also in the order were a couple of Blackbird Designs charts and a Wendy KC Design I've admired on several other blogs lately,
I've had a small finish this week too, a non-exchange one, lol, so I can share a pic, here's the Christmas Elf Fairy, which I finished the beading on last night. It was a lovely stitch and I'm already looking forward to having her framed to have out at Christmas time.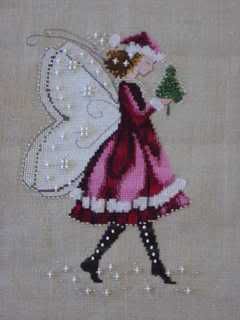 Mirabilia Christmas Elf Fairy, stitched on 32ct natural linen using Crescent Colour threads.
I will offline now until the 1st October so will catch up with you all sometime after then. Take care everyone!