Thanks to everyone who left a comment for me yesterday - its so nice to be back amongst my blogging friends - I missed you all! I still have to catch up on quite a few of your blogs, which I hope to do over the next few days, or maybe over the weekend as I have several BB's yet to visit to see whats been happening in the stitching world :)
Now for a stitching update, this is where I'm up to with "Where there is Life", the 2006 Breast cancer fundraising kit put together by Diane Williams of Little House Needleworks, Sharon Crescent of Crescent Colours and Lois @ Elegant Stitch. I started this while I was on holiday and its a lovely stitch so far.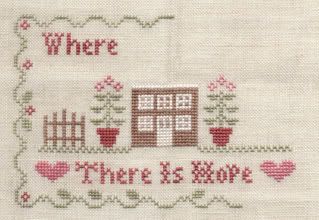 Last night I completed the stitching on my SBEBB smalls exchange so I'll put it together over the weekend, pretty straight forward finishing on this one. My other two up and coming exchanges, SBEBB Autumn and Quaker, are both completed too. I had been racking my brain trying to think of a different way to finish the quaker piece and thanks to one of my co-workers, we have come up with an interesting idea to try out :) I've got a bit of finishing to do this weekend as I also need to make up the ring pillow for our friends, their wedding is now only a few weeks away.
so onto a review of September's stitching. My goals were:
1. Kiwi Ornie SAL - 2005 JCS Brightneedle ornament -
no, first up for October though
2. JBW Designs Beaded Hearts Pillow -
yes,
3. Smalls and Quaker Exchange for SBEBB --
yes, both done
4. a square for a friend's quilt -
not yet
5. Little House Needleworks Pear -
no
6. start Bent Creek Wedding Row -
no
7. one more ornament -
yes
8. continue on current wips-
yes, a little
9. Needleroll stitchalong -2nd weekend of month -
yes
10. SAL with Karen - Indigo Rose Peekaboo pincushion - 3rd weekend of month-
have decided to wait until November
11. SAL with Carol -Violets and Lace sampler -
decided to hold off until this month
Finishes for September
:
Lizzie Kate -Deck the Halls
Beaded Hearts - JBW Designs
Little House Needleworks - Season of Rest
Little House Needleworks - Rose Sampler
Lizzie Kate - Life's a Stitch
Mirabilia - Christmas Elf Fairy
so for October:
1. catch up on Kiwi Ornie Sal ornaments
2. SAL with Carol -Violet and Lace Sampler
3. ornament for exchange with Kath
4. Misty's quilt square
5. Continue on wips
6. Stitch on Stitching Leporello, have parts 5,6 & & to catch up with.
7. several ornaments
Bye for now!