Unfortunately I can't post a picture right now (my camera is away being looked at) but I've made a great start to Violets and Lace. If you check out
Carol's
progress, I have stitched two bands less :) I've also started from the top and also stitching on 32ct olive green belfast, such a perfect colour for the lovely threads. I can see we'll have this done in no time Carol :)
I do have one photo to share today, thanks to my framing friend J, who always emails me a pic of my stitching before she puts the glass in. I chose a double mat in a teal colour and a silver frame.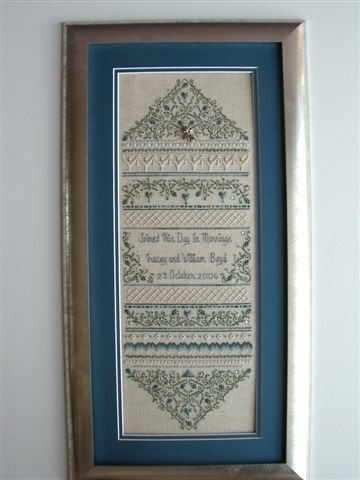 as you can by the date on the sampler, our friends wedding is now only just over two weeks away. That means our first wedding anniversary is around the corner too, amazing how quickly it has come around!
Its gorgeous day here, not a cloud in the sky- although not too warm due to a cold snap during the week. I think we were all beginning to wonder if we were back in the middle of winter, not half way through spring, on Thursday it was only 5 C at lunchtime, brr, chilly!
Not sure what the plans are for rest of the weekend. Glenn has been into work this morning and it now puttering around in the bathroom, he's almost there, the end is in sight. My Dad will be doing the wallpapering for us, once we can both decide on a colour, hee hee. I might have some lunch and then make a start on the finishing I mentionned the other day.
enjoy your weekend, whatever you might be up to!