Its been a busy few days this week playing catching up at work -its great to have time off for public holidays but you still have to fit everything in :) Then yesterday I was out of town for the day attending a regional Disability Services Provider meeting. The two good things about that was not only did I get to drop by a favourite LNS of mine but I also got to top by and see my dear friend J who's recently had a major operation and is now on the mend :)
On Tuesday I received a wonderful parcel from
Andrea.
Andrea had my name for the SBEBB Autumn exchange. Andrea stitched a needleroll using a Heart In Hand pattern(which I'd only just recently been eyeing on on their website). Andrea told me in her card, how could she NOT stitch a needleroll for me, lol.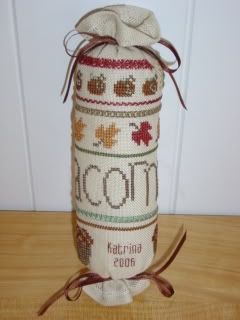 stitched and finished just fabulously.
Andrea totally spoilt me by sending some other cool treats - a chart, some neat kitty fabric, buttons, ribbon, a notebook and a little book on Hugs. Thanks so much Andrea, I love everything! And it was also really nice of you to include an anniversary card for Glenn and I :)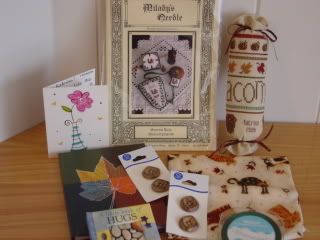 Cathy
emailed me to say the autumn exchange I'd put together for her had arrived. This is San Man Originals Sharing the Letter freebie, a freebie I'd been wanting to stitch for awhile now, and finished into a pinkeep. For some reason I can't get the my pic to upload right now but you can see it
here
on Cathy's blog
and my SBEBB Quaker exchange has also now arrived safely to
Elisabeth
in France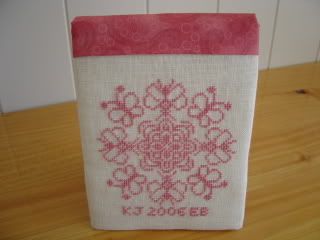 I stitched the Workbasket's May freebie finished into a notepad holder. I found the limited edition Tim Tam's while I was in Australia so couldn't resist sending some to Elisabeth as well.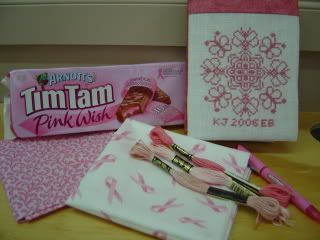 whew, thats alot of photos for today :) I've got some to share from our friends wedding but will leave them now for tomorrow.
Enjoy your day!