Thank you everyone for your well wishes for our 1st anniversary over the weekend, it was wonderful to know you were thinking of us, we really appreciate it. Because we already had other things on we couldn't do anything on the actual day but celebrated on Saturday evening with our family by having our first barbeque for the summer.
Its amazing to think that this time last year Glenn and I were packing our bags ready to head off to the Cook Islands on our honeymoon. I wish we were going again, to escape some very wet weather over the past days. But instead we will wait til next year as we have plans to be there for our second wedding anniversary.
So it was a pretty full on long weekend for us starting by going out with friends for dinner on Thursday night. On Friday we got stuck into some outside jobs, washing windows, mowing lawns, etc before my cousin Donna arrived to spend a few days with us. Then Saturday while Donna was out attending her school reunion, I caught up with bookwork before heading into town to pick up a few things for the bbq while Glenn sowed some new grass on some areas around the house where the lawn had sunk down a bit. Sunday we had my cousin Glen's 21st birthday party and oh boy, did he get a surprise! He had no idea that his parents had been planning this party for a few months. It was quite a big family gathering so I was able to catch up with a few out of town relatives that had made it to the party.
Yesterday, Monday, it was our friends' wedding and unfortunately by then it had been raining solidly for a good 24 hours but that didn't put a damper on the celebrations. Tracey and Willie had chosen to get married at one of the old lovely homesteads we have around the area,
Oruawharo
, and due to the rain they couldn't have the ceremony in the gardens but instead they were married on the verrandar. Tracey looked just radiant, and so wonderfully happy. I'll share a pic or two tomorrow :) Because it was a lunch time reception we were home by 5pm so then it was time to chill out and relax, and of course, do some stitching as I'd done very little since midweek last week.
I have a couple of pics to share now of the lovely box and other treats I received from Kelly in the US at the end of last week, the last of our year long seasonal exchange. Kelly had stitched the Letter K from M Designs and then her SIL had made it into this gorgeous box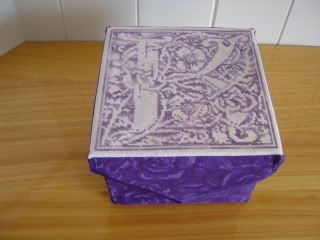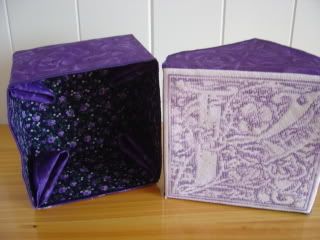 Kelly also sent some other wonderful goodies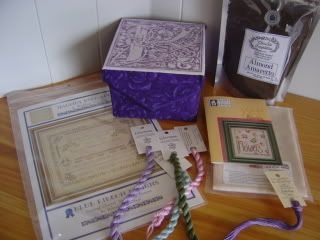 A big thank you once again Kelly, its been wonderful exchanging parcels with you over the past twelve months :)
I hope to complete the stitching on Glenn's anniversary piece tonight as I have only our names and the date to do now. Its been a pretty quick stitch. I had just enough of the GAST Old Blue paint thread, finishing the last of it on the last stitch of the lettering. Now I need to go searching the shops in town to find a suitable frame.
Hope you have a happy day :)