Thanks everyone for the comments about Rose Sampler - I truly appreciate every single one :) I'm looking forward to my next Little House Needleworks start now, Pear, which I intend to take with me in the stitching bag to Australia next week.
Its been a great week for mail, the postie must be wondering if its my birthday or something, lol. Firstly from
Carol
, the latest Just Cross Stitch magazine, not due out in the shops here for a little while yet.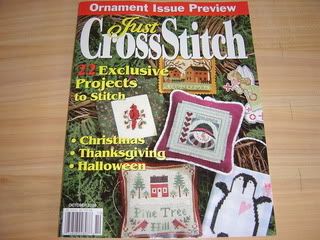 as you can see on the cover, its got several lovely ornament designs including two I've already added to my to do list, the one by LHN and the red cardinal by Elizabeths Designs.
Then all the way from
Nadine
(Lucialoo) in France, the SBEBB redwork exchange parcel.
I love all the goodies Nadine sent - some mulberry coloured linen, a piece of fabric, skein of hand dyed thread and the cutest card on which Nadine wrote a little bit about herself. Here's a close up of the front of the pocket. On the back Nadine has stitched my initials.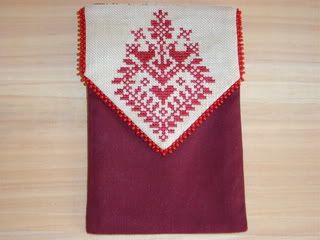 Just wonderful :)
My Monthly Bits from Stitching Bits and Bobs also arrived earlier in the week and I was quite chuffed to see several of the threads in this selection that I'm wanting for some up and coming LHN projects. I'm so pleased I decided to sign up for this, well worth the $$.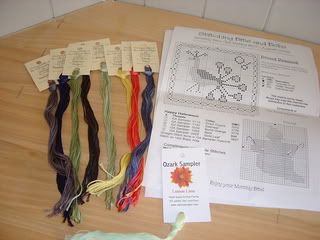 Stitching has been bit of a no show for me this week as I've had one night late home from work due to a meeting, and then last night Glenn and I went to my niece Zoe's school production. It was wonderful, the whole school was involved and each class had one item to perform. As this was Zoe's first school show, she only started school in March, she was so excited we were all going to be there - she had even told me the other day "I'll wave to you Trina", hee hee.
So tonight I plan to have dinner ready early and then stitch my little heart out, lol. I did manage to finish my SBEBB Quaker exchange the other day so I now only have one exchange piece to focus on, for the Smalls one, and thats all kitted and ready to get started. As much as I've loved participating in these exchanges over the past few months, it will be nice to get back to some regualr stitching just for me. Poor Titania and the Christmas Blessing Angel haven't seen the light of day since June! Some how I don't think Mum will be getting the Angel for Christmas this year like I intended.
oh I almost forgot, my latest Stitching Bits and Bobs order arrived yesterday too - I got some small mesh bags, Just Nan's
Merry Old Elf
,
Harvest Blessings
by Country Cottage Needleworks,
Watermelon and Apples
by LHN/Crescent Colours, and
Season of Plenty
by LHN. the last of the seasonal pillow designs to collect.
Enjoy the rest of your week :)