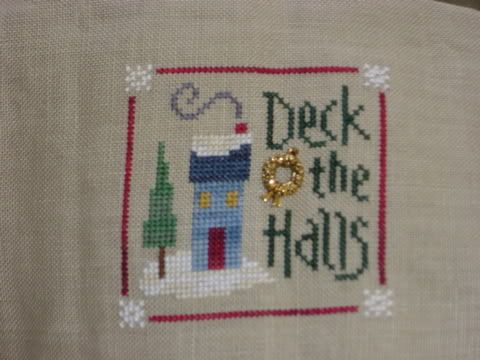 This is the ornament I finished on Friday night, Lizzie Kate's Deck the Halls from one of the Tiny Tidings leaflets. I'm going to try and up my ornie stitching over the next few months, and now September is here I can't wait for the release of this year's Just Cross Stitch ornaments magazine :)
now for August's round up. My goals were:
1. Focus on Wedding Sampler - Sweetheart Tree's To have and to Hold -
yes, all done and now away being framed.
2. Needleroll stitchalong -
yes,stitched Tulip Time by the Sweetheart Tree.
3. Kiwi ornie SAL - Homespun Sampler 2005 ornament -
no
4. Kath's ornie for our two monthly exchange -
yes, on its way to Kath now
5. Needleroll for an exchange -
yes, on its way for Robins Next exchange.
6. SBEBB Redwork exchange -
yes, also in its way to recipient
7. Part 5 Stitching Leporello -
no, didn't even pick this up in August
8. Violets and Lace SAL with Carol. -
no, not yet.
I also worked a little on the Christmas Elf fairy and finished an Autumn themed exchange.
so for September I'd like to stitch:
1. Kiwi Ornie SAL - 2005 JCS Brightneedle ornament
2. JBW Designs Beaded Hearts Pillow
3. Smalls and Quaker Exchange for SBEBB
4. a square for a friend's quilt
5. Little House Needleworks Pear
6. start Bent Creek Wedding Row
7. one more ornament
8. continue on current wips.
9. Needleroll stitchalong -2nd weekend of month
10. SAL with Karen - Indigo Rose Peekaboo pincushion - 3rd weekend of month
11. SAL with Carol -Violets and Lace sampler
Its Father's Day here in NZ today and tonight Glenn and I are going out to dinner at a local restaurant with our parents and several friends. Happy Father's day to my lovely dad and FIL, Cliff.