I hope you've had a good weekend stitching friends. It went by in bit of a blur here, lol. Friday night Glenn and I went out with friends to belatedly celebrate Glenn's birthday and one of our friend's birthday for drinks and dinner and it was a rather late night, or should I confess and say early morning, lol.
Saturday morning though, I was up bright and early to get ready for a day out with my Mum and several friends from our stitching group. We headed out of town to visit to
Quilters Cabin
, where my friend Ally and I signed up for a
Block of the Month project by Leanne's House
. I've been watching
Nicki
and
Mercedes
' progress on this one, and can't wait to start my own quilt now. Our supplies get sent out at the end of each month so roll on the end of August, lol. Ally and I are going to work on this together because Ally is a fairly experienced quilter but hasn't done alot of embroidery before, and this will be my first attempt at the quilting part so our skills will compliment each other:) I also picked up a couple of fat 1/4's of Christmas fabric, something else I tend to collect from fabric shops, hee hee. Then it was onto Hastings where we all went our separate ways for a few hours, had lunch and did some shopping before meeting up again. In all a good day - the sun was out and good company.
I was a bit wiped out Saturday night and took myself off to bed at 7.30pm to read for a bit and the next thing I knew it was 8am Sunday morning! Must have needed some extra zzzz's huh? After catching up on some jobs around the house, and also cleaning up after Glenn sanded the walls in the bathroom (there was dust for miles) I pulled my needleroll out to work on and managed to get all the stitching done on it. Tonight I'll add the beads and the charm and its all done - there was quite a bit of back stitching in this one, not my favourite to do but it has turned out quite pretty. I'll have a pic to share tomorrow.
I do have a couple of other pics to share now. First up, a couple of recent sewing finishes, Home for the Holidays by Little House Needleworks, and JBW Design's Alphabet Wreath, both made into buttoned pillows.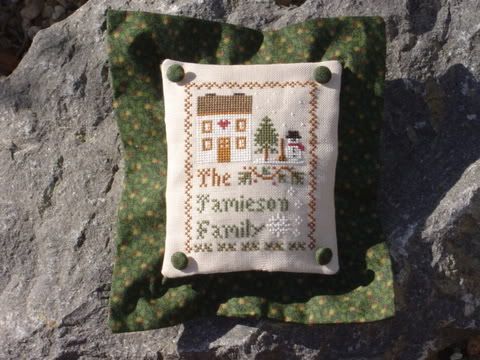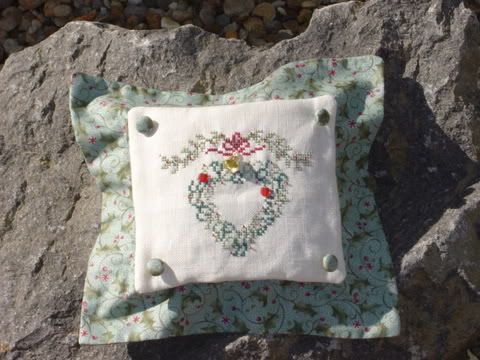 Alphabet Wreath still needs one more little red heart which I've got on order at my LNS.
Next up is last week's update on the wedding sampler, I'm really pleased how I'm progressing on this, and now some of the beads and pailiettes have been added its so pretty and sparkly.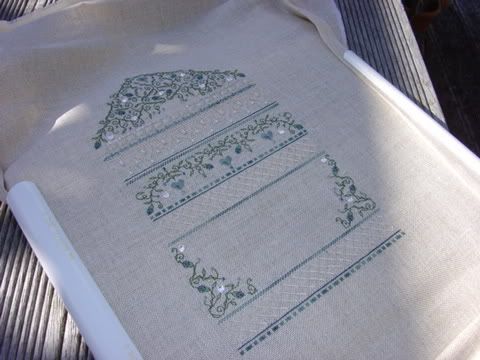 Some new stash arrived in the mail from Drema over the weekend too- I got Bent Creek's Wedding Row and the Weeks and Gast threads for it, Country Cottage's Sunflower Sampler and Raspberry Patch, Little House Needleworks Acorn and Pines, Pear Tree Inn, and the Pear Collaboration Pack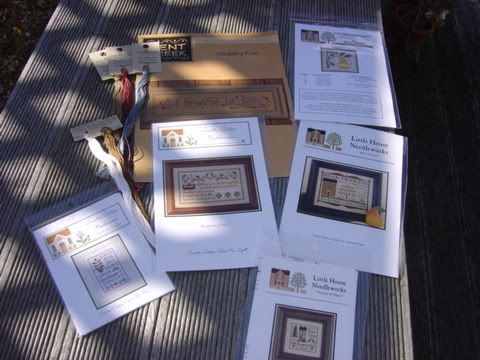 The Wedding Row I'm intending to stitch for Glenn for our 1st wedding anniversary so I might take this and Pear to Aussie with me next month.
I also finished my Redwork exchange piece over the weekend and all ready to go in the mail tomorrow is my House Exchange parcel and the last Seasonal exchange gift to Kelly in the US. Later in the week I hope to start on my needleroll for the Robin's Nest needleroll exchange - it took me ages to decide which design to pick but I think I've got it figured out now :) But until then, its back on the wedding sampler, and all that lovely (not) backstitching.
Before I go, I just wanted to say how wonderful the reponse was for this month's needleroll stitchalong - just great. It looks like we'll have several more bloggers joining in next month too, the more the merrier I say :)
Have a great day, and will be back tomorrow with hopefully a pic of my finished needleroll :)
PS: a note for Margaret (Stitch or no Stitch) -don't worry, its not too late to join the sal, look forward to seeing which design you ended up choosing and also, I'm enjoying the Eight -have only read a small bit so far.