Thank you to everyone who's been stopping by and commenting lately, its great to see you here, especially to all the new friends.
Here is my needleroll from the recent SAL, Tulip Time by the Sweetheart Tree, stitched on 32ct white lugana. A pretty quick stitch, except for all the backstitching :)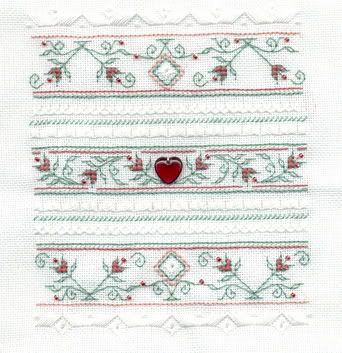 I hope to make this up some time later in the week. Its supposed to have tiny mother of pearl hearts in between the tulips but I've decided to leave them off.
Last month my friend Wendy participated in a class run at our local scrapbooking shop and when she showed me her finished piece I thought oh wow, I could do that. So off I went last Thursday and purchased (gulp!!) all the necessary bits and pieces to make up some canvas art. After a "tutorial" from Wendy I set about on Friday afternoon having a go and here are the results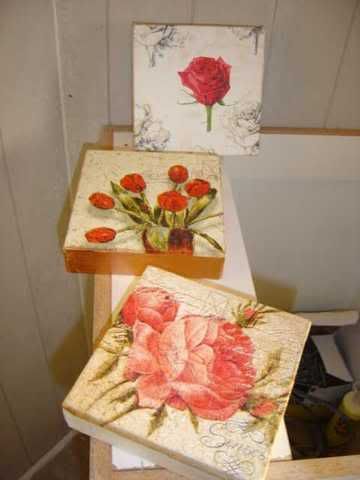 pretty cool huh? all there is to it is painting the canvas, and then using modge podge glue to stick on a fancy serviette. These are going to be Christmas gifts for two of my aunties and a friend. I just need to attach some sort of hanger on the back. I think I'll be doing a few more of these :)
now for Glenn's work in progress, our 2nd bathroom. He's been making lots of progress (and lots of dust!!) in there over the past few weekends and I think he's doing a wonderful job. This is the view in from the door -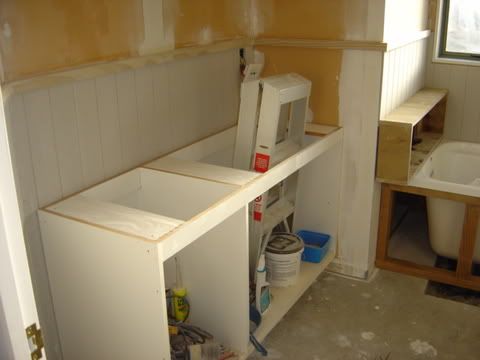 and to the side,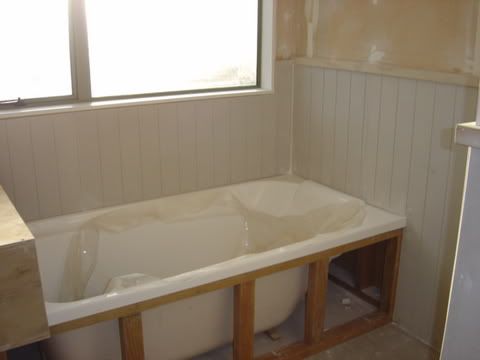 This coming weekend he's been let off "bathroom duty" to fly up to Auckland for a few days to watch the NZ All Black rubgy team play Australia. Glenn's had this booked since January so is really looking forward to going. I'm going to have a house full of visitors as my cousin Donna and her parents are coming to stay for the weekend. We've got a family get together planned for Saturday afternoon to celebrate my mum's and one of my aunts birthdays, and then we all going out to dinner somewhere Saturday night - should be fun to catch up with everyone.
Its going to be a long day today - I've got my monthly board meeting after work this evening meaning a late night home from work, and its freezing out there today, the snow on the ranges to the west of us is down really low meaning there's a real bite to the air. And here I was saying just the other day it felt like spring was almost here, hee hee. I'd much rather be home stitching in front of the fire :)