You wouldn't believe how pleased I am that its Friday today, especially since I only work until lunchtime. Its been a full on week with one thing or another, and after spending 12 days in a row at my workplace, including the days for the exhibition, it will be good to be home over the weekend.
I worked on 12 Houses last night and made some small progress, 2 houses stitched now :)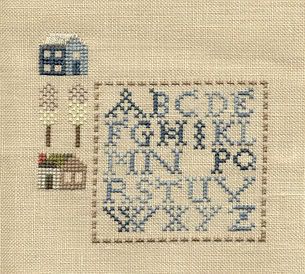 I'm stitching this on 32ct Summer Khaki belfast, one of my favourite coloured fabrics. And here is my progress so far on April's Block of the Stitching Leporello, 2 nights worth of stitching :)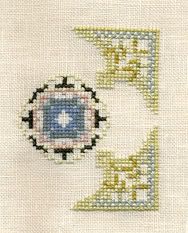 a big thanks too for all the wonderful comments about the framing and the exhibition photos, you guys are awesome!
This weekend coming up is the needleroll SAL weekend so who's up for it? LOL. I'm going to start Strawberry Patch Roll by the Sweetheart Tree this afternoon, almost looks like a Christmas roll with the lovely red and green threads.
and now for a new
Stitching Meme
:
Startitis? Have a case of startitis? What projects are you dying to start? Which would you start today if you "allowed" yourself?
Well firstly, I could put a list here that would be pretty much endless! But at the moment I'd say I'm dying to start a couple of my newer charts
An Open Heart
,
Don't Bug me when I'm stitching
, and
Indigo Rose's Beecharmer
. If I could I'd start An Open Heart but I don't have all the supplies for it just yet so probably just as well :)
Catch you later.