Hi everyone, thanks for your comments below, they are most appreciated. I don't think I shared pics of these two pieces, framed recently in time for the exhibition :)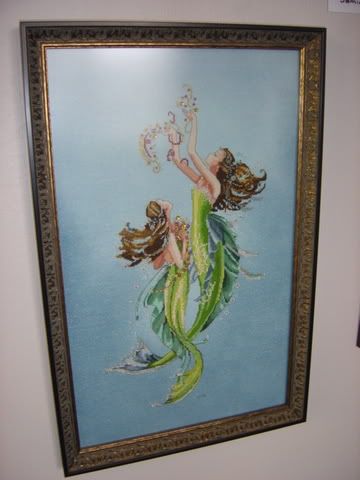 Mermaids of the Deep Blue by Mirabilia, stitched on 32ct custom dyed Ocean, from Countrystitch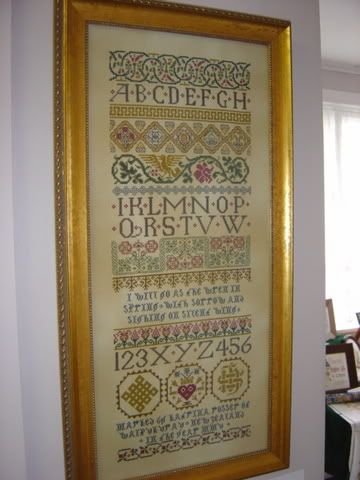 The Celtic Band Sampler by Homespun Samplar, stitched on 32ct Kiwi, from Countrystitch
I'm now officially broke from all this beautiful framing, lol.
The Baby Sampler is all done, just needs to be "finished" into a flat fold.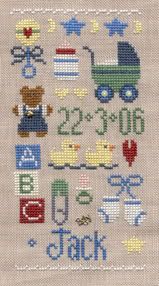 Lizzie Kate's Baby Sampler, stitched on 28ct linen, mocha I think?
Yippee, so that meant I could start the Stitching Leporello last night, I've got April and May's blocks to catch up with. I also made up the ornie kits for the kiwi ornie SAL I'm doing with
Kath
,
Lisa
and Pat. This month's choice is Paw Printing's Golden Garland. I've still got April's to do yet, eeek!! Ladies, I hope to get the kits in the mail by Thursday. Tonight I'll parcel up my
SBEBB
biscornu exchange to get in the post as its got quite a way to travel to my partner. I received
Christine V
as my partner in the friendship exchange on the
SBEBB
too, so I'm looking forward to getting to know Christine a little better over the next few months.
righto, time to fly as its off to work I go. Have a happy day :)