Is it Monday again already? :) I hope you had an enjoyable weekend, I certainly did. Friday afternoon I sat in front of the fire and stitched away the afternoon and evening, and watched
the Constant Gardener
. Then Saturday morning after a well needed sleep in I went to town and had lunch with my Mum and niece Zoe, which was really nice as we hadn't done that in ages.
Later in the afternoon I spent a couple of hours in front of the computer "trying" to install the broadband kit we'd received from our internet provider for faster internet. In the end it was much easier to phone them up and be given step by step instructions :) Its all up and running now, yay, why we hadn't switched over sooner I don't know.
Saturday night Glenn wanted to watch a rugby game on tv so I watched Harry Potter and the Philosopher's Stone on dvd, as I've decided the watch the first three again before watching Goblet of Fire. I was quite surprised as to what I'd forgotten from the first one :) And of course, more stitching was done too.
Sunday morning I was up early catching up on laundry and other little jobs before sitting down to type up some quotes for Glenn to have in first thing Monday morning. I could almost do these kitchen quotes in my sleep now, lol. Yesterday it was Mother's Day here in NZ and we had invited my parents and Glenn's to come for dinner last night so I decided to make an apple cinnamon cake, which was divine with vanilla icecream and freshly whipped cream last night. I hadn't done any baking for a few weeks so I also made a batch of Blueberry Jam muffins with cream cheese in the middle, yum! Then Sunday afternoon it was off to my monthly stitchey group for a few hours. Our dinner last night was lovely, roast pork with apple sauce and vegetables with leeks, cauli, carrots in white sauce, just perfect for the cold day we had yesterday.
I have three finishes to share today, firstly for the May Needleroll SAL, Strawberry Patch Roll, which
Anne
also chose to stitch this month: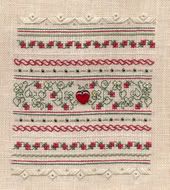 Stitched on 32ct Lambswool linen.
Andrea
and
Lisa
have both finished theirs too, Andrea finished Folk Art Roll by Shepherds Bush and Lisa, an Elizabeth Designs pattern. Haven't we done well this month ladies? I've been thinking about which to stitch next month already and I might go for a
Liz Navickas design
, one from of the Baffling series.
next up are two ornaments from the Kiwi ornie SAL, for April Jeanette Douglas's Love, and this month's choice Golden Garland by Paw Printings, both from last year's JCS issue.

(speaking of Just Cross Stitch, my friend Wendy recently gave me a copy of the 1990 Christmas issue as she had two in her magazine collection. Cool !)
so for tonight's stitching I plan to start the friendship exchange for
Christine.
I've picked a pattern out, but I keep changing my mind about colour of the fabric. I even asked Glenn for his thoughts but that was no good, as he's colour blind, lol. I'd also like to make some more progress on Stitching Leporello this week. ( for Danielle, yes, it is a
Chatelaine
design, my first one).
Its been bitterely cold here today, there's definately some snow out there somewhere, brrr!