I'd been feeling a bit under the weather over the past few days, achey bones and a sore throat, so gave in yesterday and spent the day at home. I thought that was the best thing to do, rather than spread my germs around, and I'm forever telling my staff and clients if they're sick to go home so thought I'd better take my own advice! Asides from a few half days off work for headaches I can't honestly remember when I last took a sick day. Anyways, today I feel much better, more like myself even though my throat is still a bit raw.
This week I've been working on the
SBEBB
friendship exchange piece for
Christine
so I won't be able to show a pic, just yet anyway :) I do have a couple of pics of made up ornies to show today. This is the ornie I stitched for the April exchange with
Kath
, Chessie & Me's Candy Cane Cat: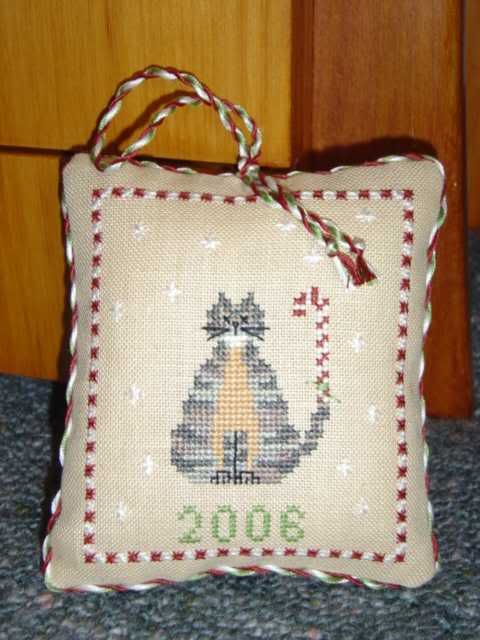 and Britty Kitty by Brittercup Designs, made into a little pillow,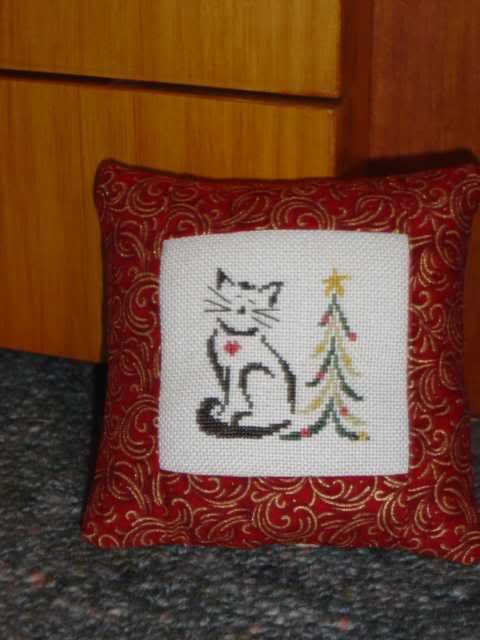 Tonight I'll work on 12 Houses since its "Drawn Thread Thursday" and maybe get another house stitched. And some great news, I have the 1998 Just Cross Stitch ornaments magazine coming soon after my friend Wendy won an auction for me on Trademe recently. So now I just have the 1997 issue to find to complete my collection.
I spent some time last night listing up and coming projects in my stitching journal last night: three exchanges ( Redwork and House themed for SBEBB) and a summer themed Biscornu for the
Legacy BB
, a small
wedding sampler
for friends getting married late July in Ireland, and a couple of birthday gifts. I'd also like to make a start on the
Christmas Blessing Angel
somewhere in there :) And for some reason, starting
Titania
has been on my mind all week but I'm going to try and resist.
Enjoy your day.