I hope you have been having a lovely week. Thank you for the all the lovely comments about the ornaments, I'd definately like to stitch the Chessie & Me ornament again, this time for another kitty loving friend, its too cute!
I'm feeling much better now too, my sore throat has almost completely disappeared and now I have a slightly blocked nose. Tissues everywhere I can tell you, lol.
Last night I made some good progress on 12 Houses, this is such a lovely design. 5 houses down, 7 to go.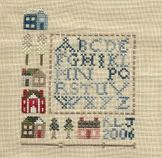 I might start
An Open Heart
as my next DT project as I'm hoping by the time I finish 12 Houses that my recent order from
Needlecraft Corner
with the needlepoint silks for it will have arrived.
I hope you have a wonderful weekend, whatever you might be up too. I haven't got too much planned except going to see the Da Vinci Code at the movies on Sunday with my MIL. Glenn is heading off to Wellington this afternoon for the night with one of our friends to watch the Hurricanes in the semi-final of the
Super 14 rugby competition
so I've planned a night of stitching and dvds in front of the fire, what more could I girl ask for :).
Catch up again soon!