Thank you to everyone for your birthday wishes, ecards, cards and gifts. I had a lovely day on Sunday and got very spoilt by my family and friends with some wonderful gifts including some money which of course I intend to spend on some new stash :)
Karen
sent me these lovely goodies - a gorgeous smelling candle, piece of fabric and two lovely postcards that have little sampler patterns on them. Thanks again Karen.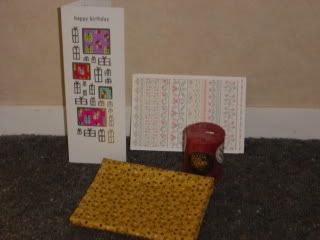 From the little kiwi group, the "Doris" ladies (aka
Kath
,
Lisa
, Pat and Wendy) I received one of my favourite body products, body butter and a fat 1/4 of a lovely green fabric - thanks ladies :)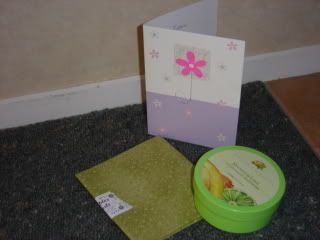 It was a very good mail day yesterday as I also received a parcel from Barb in the US for the recent
Shepherds Bush BB
exchange. I received a gorgeous fob, so delicately stitched, some sampler threads and a small piece of R and R Reproductions linen.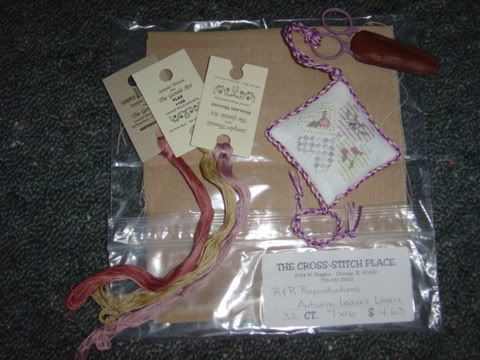 I spent my birthday having coffee with friends in the morning, meeting up with friends for lunch in town, and then at stitching group in the afternoon. Glenn and I went to my parents Sunday night where we had a lovely family dinner with my brother, who also celebrated his birthday recently ( the big 30) and my niece.
so now for some stitching pics: ta da! I finished Welcome Spot by the Drawn Thread on Thursday night.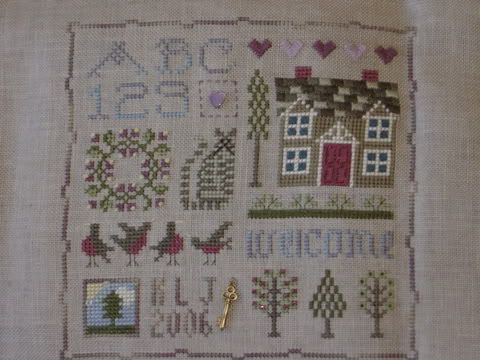 Stitched on 28ct Taupe Cashel linen using DMC threads and Needle Necessities.
I loved stitching this spot and its now with my friend to be framed in time for the exhibition. This week for the SAL with Cathy, Von and Kath I hope to start Spot of Spring, the last of the spots I have left to stitch.
I realised the other day that I hadn't shared a progress pic of the Mermaids of the Deep Blue in quite some time. I have only the beading left to do now, yay!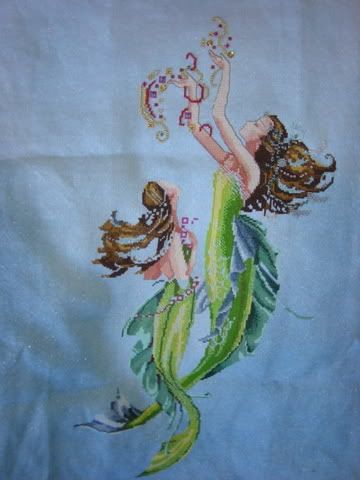 Enjoy your day/evening!