Thank you for your comments on the baby sampler everyone :)
Here is my progress so far on Welcome Spot by the Drawn Thread.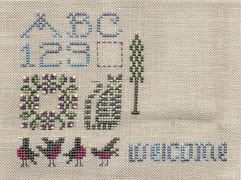 I'm stitching on Taupe 28ct Cashel linen, using DMC and Needle Necessities threads. The kitty is too cute and is the same colouring as my little kitty, Pudd Pudd. I stitched quite a bit on this over the weekend, as I didn't get much done at all on last week's "Drawn Thread Thursday".
(btw, Memoirs of a Geisha was a great movie the other night, I cried at the end, even though I knew what was going to happen. This week we're hoping to see North Country before it finishes its run here).
Other stitching news for this week - I've finished the birthday gift for my friend and the "just because" gift so I'll have photos to share a bit later in the month. I kitted up another new project last night, Passione Ricamo's
Christmas Blessing Angel
, which I've picked out to stitch for my Mum for Christmas this year. I've been wanting to stitch her a big Christmas cross stitch for ages as she adores Christmas time and really goes all out to decorate the house. I'm not sure where its going to fit into my current rotation but if I start soon it should be done well in time for Christmas right? well, thats the plan, lol.
I picked out frames on Sunday afternoon for the baby sampler, Celtic Winter and the Celtic Band Sampler. Jan has a new range so I was the perfect consumer for her, lol, and chose to go with new selections for all the pieces:) . For Celtic Winter I've picked a gold one that has swirls on it, the baby sampler will have a silvery blue one and for the Celtic band sampler, a browny one with celtic detail. I can't wait to see them all done now. I've also pre-selected one for the Mermaids.
I hope you are all having a good week my stitching friends :)