Over the recent weekend, Glenn and I attended two weddings. On Friday we had Glenn's brother Paul and my new sister-in-law Jude's wedding (how cool, we're now officially sister in laws!!) Their wedding was held at a venue called
Peak House
in Havelock North, near
Te Mata Peak
, a huge hill where you can see 360 degree views all over Hawkes Bay, Napier, Hastings, and other mountains and surrounding green rolling hills. It was a wonderful wedding, Jude looked absolutely stunning in her beautiful dress, and Paul scrubbed up very handsome too.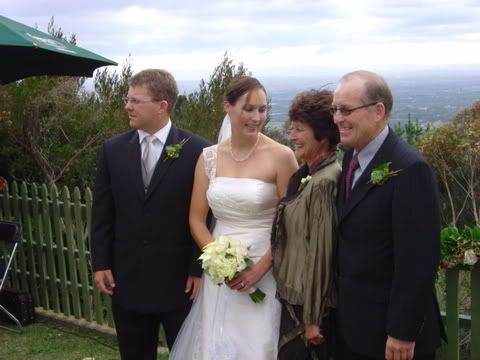 Paul, Jude and Heather & Cliff -Glenn and Paul's Mum and Dad
We thoroughly enjoyed ourselves, especially being able to talk with all Glenn's relatives, as many of them we only caught up with briefly at our wedding. I think we got back to the motor lodge and to bed at 2.00am on Saturday!!
Saturday we did it all over again, and this time Glenn was in the bridal party as a groomsman for our friends Craig and Kelly (Craig was one of Glenn's groomsmen). This wedding was held at
Oruawharo Homestead
, about 20mins from Waipukurau. Kelly and Craig got married under a magnificent old tree and then the reception was held in a marque on the front lawn of the homestead. A beautiful setting amongst the trees and gardens.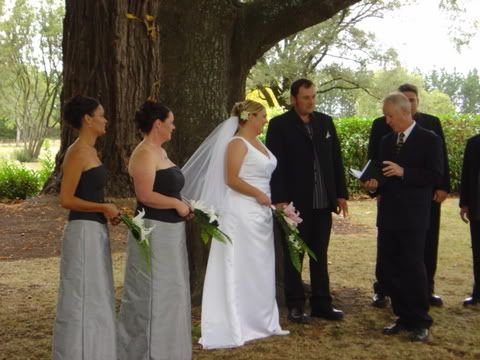 We had a great time catching up with several old school friends who had come home for the wedding. Yesterday, Sunday, we went to a luncheon held at Kelly's parents house, so asides from catching up with the laundry early Sunday evening, that was our weekend!!
I did manage to squeeze in a little stitching last night while watching the Kiwi's compete in the swimming and cycling at the Melbourne Commonwealth Games. I started a new project,
Wandering Shepherd
by Shepherd's Bush, a kit I've had for absolutely ages - this is going to be my Sunday project for the next few weeks. Tonight I've got a little bit of finishing to do on a friend's birthday gift and I also hope to kit up another ornament for March, Merry Yule,
a freebie
by Glory Bee, as well decide on a needleroll design to stitch for my friend Petra from Sweden's birthday next month. I'm thinking of a Sweetheart Tree one but I love them all so are having a hard time on picking just one, lol. I hope to spend a few hours on the Welcome Spot before this Thursday, to make up for missing my "Drawn Thread Thursday" slot last week.
I'll leave it here today with a pic of the start on Wandering Shepherd. Hope your weekend has been a happy one too :)