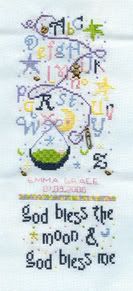 Birth Sampler Bless - Sisters & Best Friends, stitched on Blue Ice 32ct lugana from Countrystitch, with DMCs and Weeks threads.
My friend Jan, who does my framing, is coming to this Sunday's cross stitch group gtg, so I'll have a look for a suitable frame for this one, Celtic Winter and the Celtic Band Sampler.
I think Lilly of the Woodsis going to be my next Mirabilia start, only because I have all the threads and some suitable fabric, good old olive green belfast :) Forest Goddess came a very close second, but I haven't decided on any fabric for her yet, maybe
Pipi from Countrystitch
?
Since our dinner is all organised, I'm off now to stitch on Welcome Spot, as its Drawn Thread SAL day with
Cathy
and
Von
, for a few hours. Later tonight I going out to the movies to see
Memoirs of a Geisha
with my movie buddy, Tracey. I read the book a few weeks ago and thoroughly enjoyed it so it will be interesting to see whether the movie follows the storyline. Enjoy your day :)