Here are the two 4 My Boys freebies I mentionned finishing over the weekend, Never Enough Stash and Grateful Hearts.
Never Enough Stash I'd seen recently in
Mercedes'
stitching album and knew that the pattern was someone where in amongst the folders and folders of freebie patterns I have collected over the years.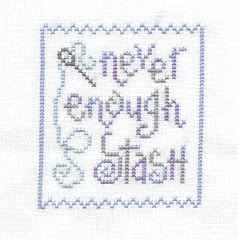 and
Carol
kindly sent me Grateful Hearts, thank you Carol.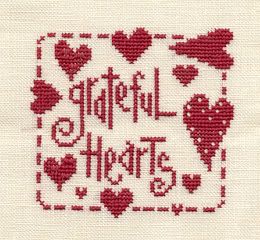 Both of these I might finish into small flat folds for my office/studio shelf. The patterns can be copied for other stitchers so I'd be happy to share. Just drop me a line if you are interested.
Thank you for the kind words about the needleroll too. Patti, the name and designer is Wildflowers Needleroll by the Sweetheart Tree. As some of you already know, needlerolls are bit of a passion of mine and I don't know why, but I just love them! Since I began stitching, I've either stitched and collected almost three baskets full of needlerolls! One sits in the lounge, usually on the fire hearth when its not going, one is on the dresser in the spare bedroom and one sits on my antique sewing machine. I have had needlerolls sent me to in exchanges too - from Australia, Canada and the US.
Karen
sent a beautiful needleroll to commemorate our wedding last year, and several I have received from
Kath
for birthday or Christmas gifts. Since finishing Wildflowers on the weekend my mind has been working over time thinking about more needlerolls to stitch and my friend Wendy and I have also been talking about different needlerolls this week during coffee breaks, lol. So on my way into work this morning (seems to be when I do alot of thinking about stitching, hee hee) I came up a with a "plan", well, lets call it that anyway. Over the next few months I'm going to add another slot to my current rotation and pick out a needleroll design to work on the 2nd weekend of each month. First up is going to be another Sweetheart Tree one,
Blueberry
. Would anyone care to join me in a needleroll stitchalong?
Last night it was my stitching group get together and we had a fun filled night. A date and intinery has been set for our stash shopping trip next month, Saturday 22nd April. We've got three lns's and one fabric shop on our list to visit. I've started putting together a list of beads and threads to buy for up and coming projects but I'll try and be good and not blow the budget since I'd already decided to treat myself to some "wishes" off my list at
Needlecraft Corner
next month, being my birthday month.
and guess what, eight days later, its finally stopped raining, yay! Its SO green but boy, have the weeds started popping up. oh well, guess thats means a day of gardening will be on the agenda very soon.
Finally for today, some happy news: last night I spoke to my friend Bec in Sydney, Australia. Her baby girl, Emma is now three weeks old, and is just beautiful. Everything is going well. We also worked out dates for my intended visit in September with my Mum. Wahoo, so sometime around the 18th/19th September Mum and I will be flying to Sydney for a few days before heading down to Melbourne to attend my uncle's 50th birthday on the 23rd, and then we will have a week in Melbourne to shop until we drop, lol.