Read, stitch, watch tv and dvds with Glenn, a little bit of housework - thats what my weekend consisted of, lol. It was more like winter here, with heavy downpours and a very cold feel to the air. We even had our fire going for the first time:)
So for a stitching round up - I was able to finish, and make up the Wildflowers needleroll.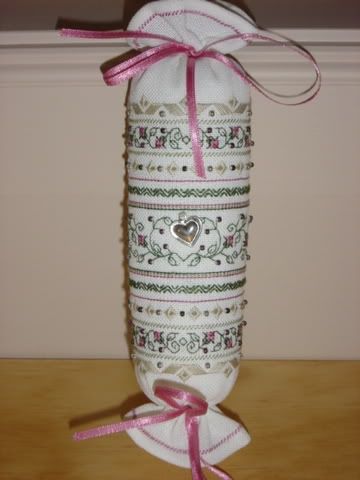 I love this one, and had a very hard time wrapping it up in order to go in with the other birthday goodies to be posted to my friend in Sweden, lol. I guess I'll just have to stitch it again someday :)
(I can share this pic without spoiling any surprise as my friend doesn't visit here).
I also stitched two small freebies from
4 My Boys
, and made some good progress on the Mermaids. I'll share pics of these a bit later in the week. Then I spent some time late Sunday afternoon sorting through small projects that I'd like to stitch in April.
My spring exchange for the
SBEB
is on its way today too, all the way to the other side of the world, and to country where I've never had a stitching exchange partner from before :) It will be interesting to see how many days it takes to reach its destination.
Thank you all for your comments on my recent happy dances too, they mean a great deal to me.