Last night I worked a little more on the Welcome Spot for the weekly DT Spot SAL with Cathy, Von and Kath.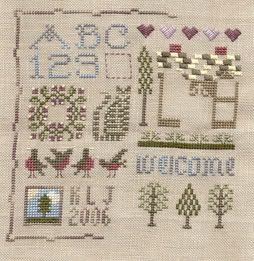 and speaking of Drawn Threads, have you seen the
new patterns
, both are wonderful and I'll definately be putting in an order for them both asap :)
Tomorrow morning Glenn and I are heading to Wellington for the night with several friends for our annual
Super 14 rugby
fix :) We're going to see
Hurricanes
hopefully beat the Crusaders :) The Super 14 competition is a major competition held between the top provincial rugby teams of New Zealand, Australia and South Africa. This year two more teams were incorporated into the competition and at the moment, the Hurricanes, team we support are almost at the top of the table.
Von and Juanita, I'll take some photos of the needleroll baskets to share with you after the weekend, and to everyone that has asked about the freebie patterns, I'll be in touch with you very soon.
so while I'm off being a Hurricanes rugby fan, I hope you have a great stitchey weekend!