Thank you for your comments on my Summer Spot - I appreciate them so much. Summer Spot was really a pleasure to stitch, but then aren't all the Drawn Threads, lol. I'm already looking forward to working Welcome Spot this Thursday and I think Kath is planning on working on hers too. But I have to let you in on a little secret, I realised just before I put it down the other night that I'd stitched one of the middle motifs in completely the wrong colour. Since when are tree leaves brown? lol. So I guess unpicking will be the first thing I do on Thursday! Check out
Cathy
and
Von's
blogs as they are both doing a great job on their spots.
The 1st Wednesday of each month this year is set aside for the little SAL I'm doing with
Lisa
, Pat and
Kath
. This month Lisa kitted up Britty Kitty by Brittercup Designs for us. I think I actually spent more time frogging on this one, than actually stitching it, over 1 stitching is just not my forte I'm afraid :) but I managed to finish it on Friday night.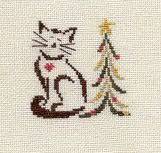 Stitched with Weeks Dye Works threads.
The weekend went by in bit of a whirl to be honest. My niece's birthday party was lots of fun on Friday afternoon - lots of games, presents, and of course, all the party food went down a real treat with the kids - who would have thought they could eat so much, lol. Saturday I had an information display at a local Health and Disability Expo for work which went well, we gave out lots of pamphlets and spoke to the different providers there - a good networking opportunity. My uncle's surprise 60th birthday party was Saturday night and boy, did he get a surprise, lol. It was good to catch up with all my other aunty and uncles, and cousins too, there's always quite a crowd when my Dad's side of the family get together. I was also able to have a catch up with my cousin Ange who was in town for the weekend, and is due to have her baby in about a fortnight. Ange and her husband chose not to find out what sex the baby is going to be so I thought I'd wait until after the baby is born to see what type of baby sampler to stitch for them, maybe this
Lizzie Kate
design? And speaking of babies, my friend Bec in Sydney still hasn't had her baby. I got a text from her the other day to say that this Tuesday will be the day, thats if nothing happens before then. How exciting!
Did you see that Victoria Sampler has a new freebie,
Bloom... where you are planted
? Very nice :)