It was a very quiet weekend at our house - I only ventured out to do some grocery shopping on Saturday afternoon, and to have coffee with a friend yesterday afternoon. So I got lots of stitching time - not only did I start and finish my exchange piece for the
SBEBB
spring exchange but I decided to go ahead and make it up, as I'm not sure if I'll get time to over the next few weekends, they're pretty booked up with various things - a health and disability expo to attend, a 60th surprise party, the usual end of the month invoicing and accounts for our business, and two weddings! I also made up the Heart Sampler into a needleroll, Joy to the World also into a needleroll, and the ornament for my exchange with
Kath
. For the ornament and spring exchange, all will be revealed in a few weeks time, lol, but here are the needlerolls.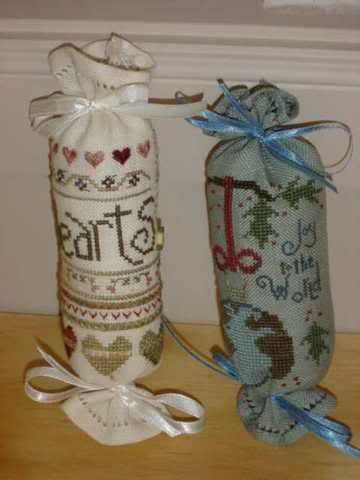 My Drawn Thread SAL with
Cathy
last Thursday evening didn't get much attention - friends popped around to catch up after their recent trip to Melbourne, and then I realised I was short one thread, dmc 407, and do you think I could find a spare skein of it anywhere amongst all the 100's of dmc's in the craft cupboard, not for your life! lol. A trip to my lns during my lunch break today remedied that so I'm hoping for a wee happy dance on summer spot this coming Thursday all going well. Cathy has made a great start on her Spot of Spring.
I also spent some time yesterday afternoon organising my March small projects (two of these I won't be able to give any details away just yet as they're gifts for two regular readers of this blog :). I've been thinking for some time about making my Sunday stitching time a Shepherd's Bush themed slot so got underway last night by pulling out
Elisabeth's stocking
from the depths of my stitching basket. Thanks for the inspiration Kath - Kath has been going great guns recently on her Mary stocking. I have sadly neglected my stocking for such a long time, which is silly really when I realised last night how very little left there is to do on it.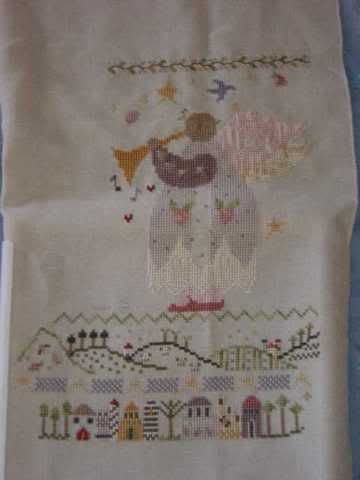 Other SB projects lined up for the next few months include
Wandering Shepherd
,
Pine Pin Needleroll
and the
Christmas fob
. I also need to come up with an idea for the scissor fob or tape measure exchange on the
SB board
next month.
and lastly, here's the latest progress pic of the mermaids - I just love the various shades of greens :)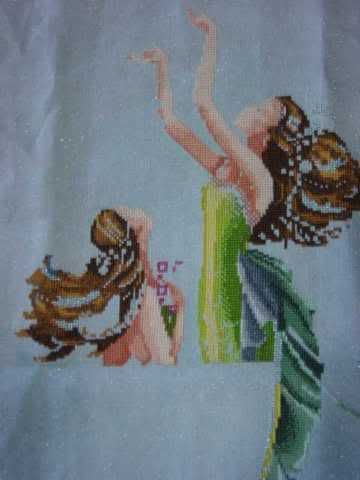 I hope you've had an enjoyable weekend too.