My recent order from Silkweavers was waiting for me when I got home from work yesterday afternoon. Thanks partly to Christmas gift certificate from a dear
friend
, I had a little splurge on some fabric I had on my wish list for ages.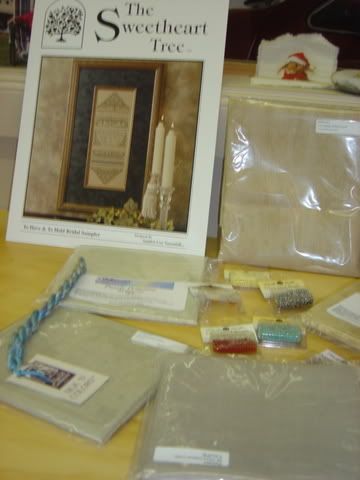 32ct Belfast Purely Primitive 32ct Belfast Days Gone By - for Passione Ricarmo's A Christmas SpiritZweigart 32ct Vintage Belfast Country Mocha - for LHN's Coffee MenuZweigart 28ct Taupe - Drawn Thread's Welcome SpotZweigart 32ct Putty - Drawn Thread's Perennial Border
This piccie (not such a good one today) also shows a couple of other goodies I ordered from my not so close LNS before the owner went on her trip to Nashville - I'm looking forward to finding out what she lovely charts she's brought home with her :) Anyways, I got the Sweetheart Tree's
To Have and To Hold Bridal Sampler
which I'm intending to stitch for friends getting married in October, a skein of Thread Gatherer's Aegean Twilight for this
freebie
, and some Mill Hill beads off my wish list.
Tonight I'm going to start Spot of Summer, the first of my 2006 "Drawn Thread Thursday" projects.
Cathy
is going to join me by stitching Spot of Winner as a SAL on the
Friends Gather Board
so if anyone else is keen, you are more than welcome to join us too.
PS: I might just have a happy dance to share tomorrow, only a few beads to go on Celtic Winter, yay!