yay, its Friday, and I love Fridays because I get to finish work at 12pm! More often than not I use the afternoon for hair appointments, going out to lunch with friends, doing jobs in town or like today, keeping up to date with quotes and invoicing for our business. But before I get on with those, may I present Celtic Winter - ta daaaaa!!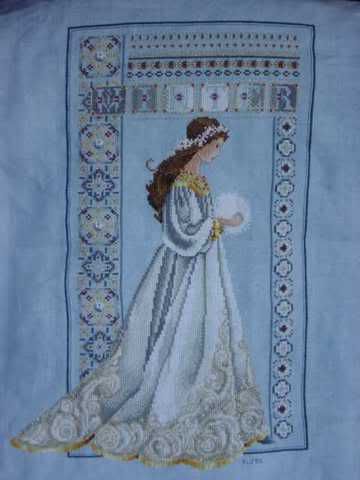 Started way back in September 2005 but mostly stitched during January. Stitched on 28ct cashel custom dyed Coastal Ice from
Countrystitch
. (the fabric looks very blue in this photo but its probably not as blue, if that makes sense!)
I'm going to be meeting up with my framing friend in early March so she'll definately be all ready to hang on our bedroom wall by the time our NZ winter starts. I've been alternating Celtic Spring and Celtic Summer on the wall beside my side of the bed for a few years now so once Celtic Winter's framed, she will be added to the rotation, lol. I'll be watching for
Carol's
CW happy dance now as she has only got some beading to go.