Monday morning has rolled around again and it looks like its going to be another hot day here, there's not a cloud in the sky :) The weekend went by far too quickly but I guess thats what happens when you're not home for much of it, lol. Friday night Glenn and I went out with friends to celebrate the start of the
Super 14 rugby competition
and got home quite late. Saturday afternoon I met up with my sister in law to be, Jude and her friends for Jude's hen's party. Jude's bridesmaids had organised a cocktail party and lots of hilarious party games so it was a fun afternoon/evening. Sunday morning was spent catching up with laundry and then in the afternoon I went to my stitching group's get together. Last night while watching the new series of both CSI and Criminal Intent I finished this little sampler just in time for Valentine's Day.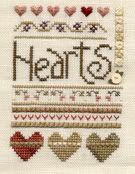 Hearts Sampler by Heart in Hand, stitched on 32ct antique white Belfast linen, using a combination of GAST and Weeks threads
I've also had two more ornnament finishes over the past week. My 2nd ornament for February I won't be able to share with you until a bit later as its for an exchange with
Kath
but I can tell you it was a fun stitch and one I'd been wanting to do for a good few years :)
This is the last of the choices for the JCS Retro Ornie RR, Joy to the World by Bent Creek from the 1998 issue, stitched on permin linen. This ornie RR has been alot of fun over the past six months and I'd love to do another one sometime.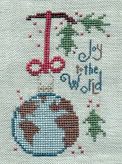 I'd better get going and get myself organised to get to work, enjoy the rest of your weekend or if Monday has already started for you, I hope you have a lovely day :)