I also got two bellpulls finished over the weekend. The first is Lizzie Kate's Santa's Wish List, stitched in September 2005.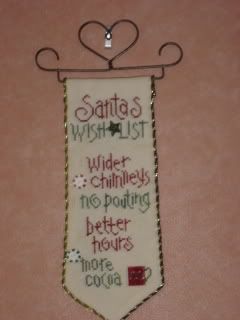 Next the stitching credit goes to Misty (mistymom2000 on the BB's). This lovely piece I received late last year from Misty in a year long
seasonal exchange
. Misty asked me if I would mind finishing it as this was the 2nd piece she had actually stitched for me, the 1st one unfortunately going "missing" when she had sent it away to be made into the bellpull. The design is
Seasonal Gems I
&
II
by Just Nan. Isn't it lovely? Thanks again Misty!