I'm back after two weeks more or less away from home, my poor neglected husband, lol. From the 3rd to the 6th Jan I went to stay with
Kath
and her family at Paraparaumu and had a lovely time. Kath and her family always make me feel so welcome.
We SALed together on Indigo Rose's Forget Me Nots. It took quite some time to get our heads around the instructions and get underway, I'm not sure who did the most frogging, Kath or I, lol. I've since finished the needleroll, scissor fob, and the needlebook, a very pretty design, and all is needed is for the hardanger to be completed and then they can all be made up. Scary - I'm not whether I'm looking forward to this part at all, but will give it a try, its been sometime since I did hardanger.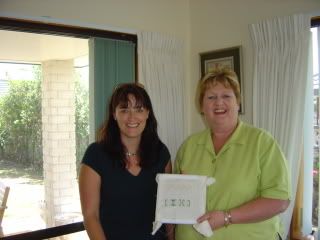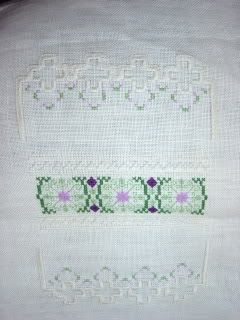 I also caught up with two of my other kiwi stitching friends,
Lisa
and Pat, and I got to ohh and ahh over Lisa's Christmas Elf Fairy which she had recently finished, just gorgeous. Kath, Lisa, Pat and I are going to SAL together this year a selection of the ornaments from the 2005 JCS magazine, the first one being the Prairie Schooler one in February. We are going to each take turns at kitting up the ornaments for ourselves and each other which is a great idea to share supplies, especially since some of the threads only need a mini amount.
Celtic Winter has received quite a bit of attention during my holidays, and here's the most recent update on her: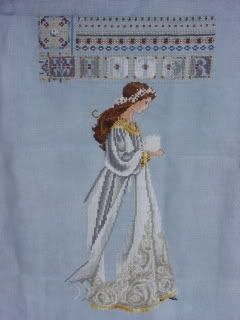 and my recent new start, Mermaids of the Deep Blue, which I'm thoroughly enjoying.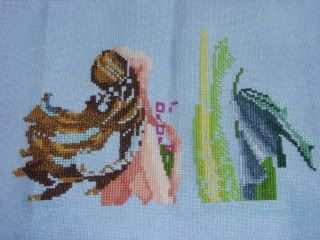 Last week I spent in Palmerston North with my aunt and uncle, and cousin Kimberley. Its become bit of a tradition over recent years for Kim and I to spend a week there during January. We had a great time, shopping until we dropped, going to the movies - Rumour Has it (enjoyable comedy) and the World's Fastest Indian ( an excellent kiwi film) and we also went to an Owl Reserve park, Owlcatraz, which also had other native birds and animals, which was very interesting, especially getting to see the little owls up so close.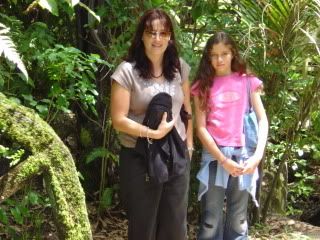 So its nice to be home again. I'm back to work on Monday and I actually think I'm looking forward to it, crazy I know, but it will be good to get back to the "normal" weekly routine of things and catch up with my work mates to see how their holidays were
Yesterday it was my Dad's birthday so Mum organised a barbeque for all my Dad's side of the family to get together last night We had a lovely evening sitting under the gazebo and catching up. Its been some time since the Rosser family were all together at a family event, even at our wedding some of family couldn't make it. So its already been decided that one of my aunts is going to host Christmas 2006, lol, and we've been told that we all have to be there, no excuses, lol.
Stitching wise, this weekend I'm trying to catch up on my JCS Retro RR ornies, Dragon Dream" Never to Old to Believe, and Moss Creek's a 16th century Celtic Christmas. If I manage to get them done, I'm going to start my weekly rotation on the Mermaids.